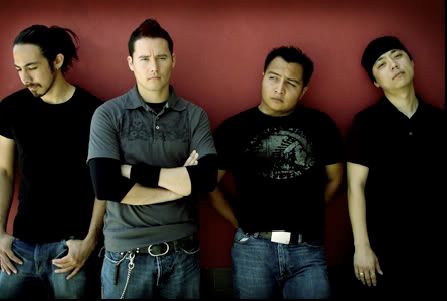 From left to right: Maurice Salmin (drums, vocals, piano), Johnny Yong Bosch (lead vocals, guitar), Alex Orantes (bass, vocals), and Daniel Lee (lead guitar).

Originally forming in 2002, Eyeshine has been on an interesting journey. After going through different incarnations, recording issues, and finding time away from their personal lives to work on their music, they have come pretty far. Originally consisting of Maurice Salmin and Johnny Yong Bosch, Alex Orantes joined the band during the recording of their first EP. They stayed a trio until they recruited Daniel Lee to take over lead guitar for their first full-length album. Front man Johnny Yong Bosch originally formed the band as a church group, but has since come to describe their style as "edge rock". Bosch has described this new genre appropriate not only for them but for other groups as well.



"I think Edge Rock would fit any growing band though - if you've heard us since our start you'd notice a change or growth. We like to think we're on the edge of becoming or discovering a new sound."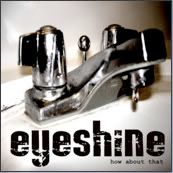 In 2006, after going through problems releasing their first EP,
How About That
, they decided to independently record and release it themselves. Featuring eight tracks and a lead single in "Sunday Flower", their push and promotion has gained them a loyal following in the indie rock scene. Despite the lower production quality and small track listing, their memorable melodies and catchy lyrics stood them out from other acts. After selling out of physical copies through their online store and at gigs, the EP is exclusively available through
iTunes
. As a three-piece band, they had a nice, full, and distinctive sound that really caught my attention. While most bands nowadays can be pinpointed into certain styles or particular band sounds, Eyeshine really brings something different to the table.
Although still unsigned, Johnny Yong Bosch has helped push the band with his name and celebrity within certain circles. Probably most well-known as the Black Power Ranger in
Mighty Morphin' Power Rangers
, he has since made a name for himself doing voice work in various anime and video games such as Vash the Stampede from
Trigun
and Ichigo Kurosaki from
Bleach
. A skilled actor, martial artist, and musician, he has carried over his following and loyal fans to his music career. Performing at various gigs and anime conventions, Bosch has helped spread the music of Eyeshine.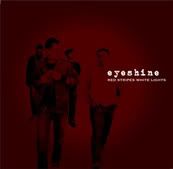 During the recording process for their first full album,
Red Stripes White Lights
, the addition of guitarist Daniel Lee allowed them to further expand their sound. With the use of full studio production, their wider music range, and their growth as musicians, RSWL shows a big leap in terms of musical quality. The lyrics show nice depth and the songs cover a nice range of musical moods. Their lead single and music video,
"Here Comes the End Again"
shows their more aggressive, rock sound. With remixes of EP tracks "Not Really Good" and "Sunday Flower" as well as great standout tracks like "Don't Bury Your Eyes" and "Waterfall", RSWL features some introspective tunes, catchy choruses, and a polished feel that shines throughout the whole album.
The fact that Eyeshine is still unsigned amazes me that a record company hasn't picked them up. But their indie-rock feel and independent sound definitely shows through and adds to the band. With more unreleased songs soon to be released through digital music services as well as future forthcoming albums currently in development, Eyeshine definitely deserves a listen. Check them out at their
myspace
or their
official site
.
UPDATE:
You can read my review on their music video, "Here Comes The End Again"
here
.