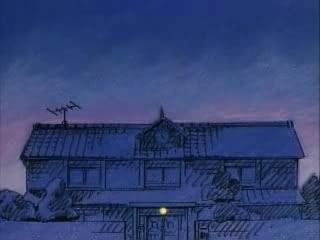 The story of Maison Ikkoku may sound a little familiar. A student trying to get into college falls in love with his apartment manager, all while the crazy tenants interfere in their lives. As one of the early stories of its kind, it set the bar for future shows of its kind such as Love Hina and Mahoraba ~Heartful Days. Originally premiering on Japanese television in 1986, the anime adaptation to Rumiko Takahashi's Maison Ikkoku has a timeless, classic feel with a universal storyline that makes it easy to relate to. While it does contain various cultural nuances unique to Japan, Takahashi manages to take a snapshot of Japanese life and make it even more fantastic. Well-known for her more fantastical series like InuYasha, Ranma ½, and her first major work Urusei Yatsura, Takahashi places Maison Ikkoku into a more realistic setting with a more serious, yet comedic tone.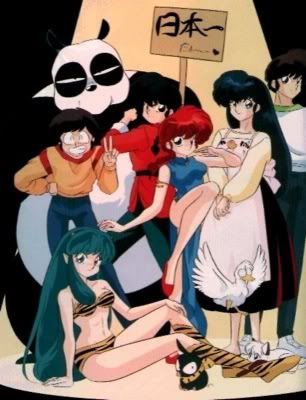 Kyoko and Godai (far right) pictured with characters from Ranma ½ and Urusei Yatsura.

The story focuses on the new apartment manager Kyoko Otonashi and the ronin Yusaku Godai, who is still attempting to get into college. You immediately get to know the other tenants of the boarding house: the motherly Mrs. Ichinose, the promiscuous Akemi, and the mysterious Yotsuya. They quickly show off their favorite pastime, which tends to be frequent parties in Godai's room to tease him and celebrate his failures to pass the college examinations. As Kyoko steps in as manager, it soon makes for a fun and comedic story with interesting characters and a nice look into life in Japan. However, Kyoko's hidden past puts a twist on the story. With romantic rivals, financial hardships, and misunderstandings galore, Maison Ikkoku stands out from Takahashi's other work.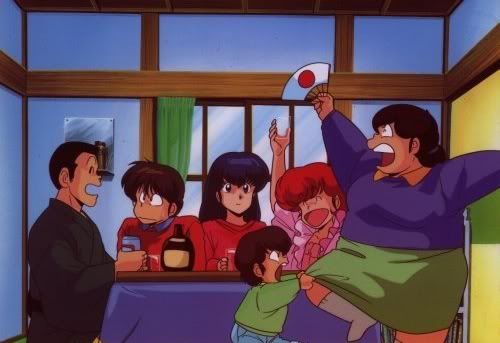 From left to right: Yotsuya, Godai, Kyoko, Akemi, and Mrs. Ichinose with son Kentaro.

One of the best points about the show is the growth and realism of many of the characters. From the beginning of the series to the end, you see Godai, Kyoko, and many others make mistakes, show character flaws, and mature as the show goes on. Seeing them grow and respond makes you care about them more. While a good portion of the show depends on a misunderstanding to develop the plot, this showcases the character's personality traits and the time period to cover some of its flaws. Throughout each episode, there is a sense of melancholy and serenity in each scene transition, using train passings, nature scenes, and depictions of daily life to set an overall tone and mood. Spanning across ninety-six episodes, Maison Ikkoku's slower pace gives you a look into each individual. Episodes feel less like filler and more essential to the story and the character's development. Many recurring characters are introduced, which only further adds to the story and growth of its cast.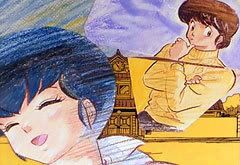 While perfectly fine when taken at face value, the various cultural notes and subtleties add a whole other layer to Maison Ikkoku. The rebellious nature of Kyoko, the wishy-washy attitude of Godai, and the daily grind of the tenants in the boarding house can reveal more than just being used as tools to fuel the plot. For example, Kyoko's attitude towards her parents and her position as a single working woman says more in Japan then the same in other countries. If taken the time to look into it, there is more to be found then just simple comedy or plot scenes.

It is difficult to describe the uniqueness and appeal of Maison Ikkoku on paper. The show has this sense of serene frenzy that goes beyond the mere description of romantic comedy. Seeing Godai and Kyoko grow and change throughout the show makes you root for them even more. As they try to find their place within typical Japanese life, you get to laugh, cheer, and shout along the way.