If you
aren't familiar
with Eyeshine, they are a four-man indie rock band out of southern California. Their first full-length album, Red Stripes White Lights was recently released on their
website
and online music service
DigStation
, with other services such as
iTunes
,
Rhapsody
,
Allmusic
, and
Nielsen SoundScan
planned for future release. Their first single and music video released from RSWL, "Here Comes The End Again", shows off a strong sound and gives a nice impression of the band and the album.
With driving guitars, a solid drum section, and an up-tempo beat, Eyeshine certainly makes an impact from the get go. With a powerful chorus to start things off, everything hits the ground running. One of the strongest points about both the song and video is the amount of energy displayed. The buildup of the guitar intro and the entrance of the full band are shown off nicely and are given more impact by the missile and explosion. The wartime storyline fits well with the song and is interlaced and synchronized evenly throughout the performance. Scenes of battles, fighter jets, soldiers marching, and early 20th century America add a sense of urgency and an appropriate interpretation of the song. The concert segments are lively with an energetic crowd and an intimate venue. I liked the effects spread throughout the video, as they were used sparingly and added a little personality to the mix. The timing is right-on, especially seen in the escalation to the instrumental break. Depictions of pilots and soldiers in preparation for battle culminate into this large, nuclear explosion. Overall, the music video complements the song very well.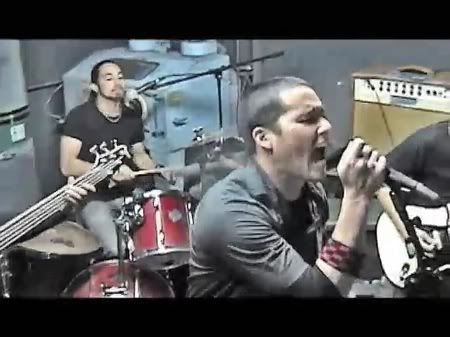 Original members Johnny Yong Bosch (lead vocals/guitar) and Maurice Salmin (drums, vocals, piano) started the group in 2002 out of a garage.
They do a good job of maintaining and fueling that energy, but there are some minor snags. The camera angles used aid in showing off the overall intensity, but it didn't always give a clear shot of the full performance. Isolated to individual or grouped shots, it made the performance feel a little too cramped at times. And while the storyline felt appropriate, there could be some small confusion on the direction or message of the video.
Despite these slight issues, Eyeshine gives a strong showing of what they have to offer. Filmed and created independently, "Here Comes The End Again" gives a nice look into their sound and the band themselves. The music video is currently available through their
iTunes podcast
and various streaming video sites seen below.