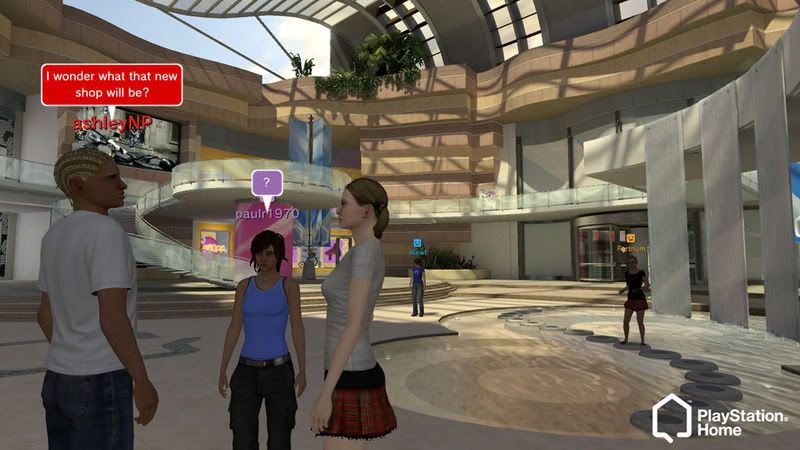 Ever since Sony announced its new, free PS3 online service entitled PlayStation Home at the 2007 Game Developer's Conference, it has created a wide variety of reactions. Some raised eyebrows while others were excited by their bold new direction with the PS3's sub par online set up. However, numerous delays, face lifts, and focus shifts has diminished conversation and brought some skepticism. Touted as an alternative experience to Xbox Live, it has been called a copy of the Sims-like online game/service, Second Life. While Home has been misguided in its initial stages, it is finally shaping up to have some true potential. Focusing on the social aspect of meeting other gamers and launching games in exclusive title-specific game spaces, the PS3 may be the console to really foster a dynamic and active community. With the release of an open public beta promised before the end of the year, the console may finally start separating itself from the Xbox 360.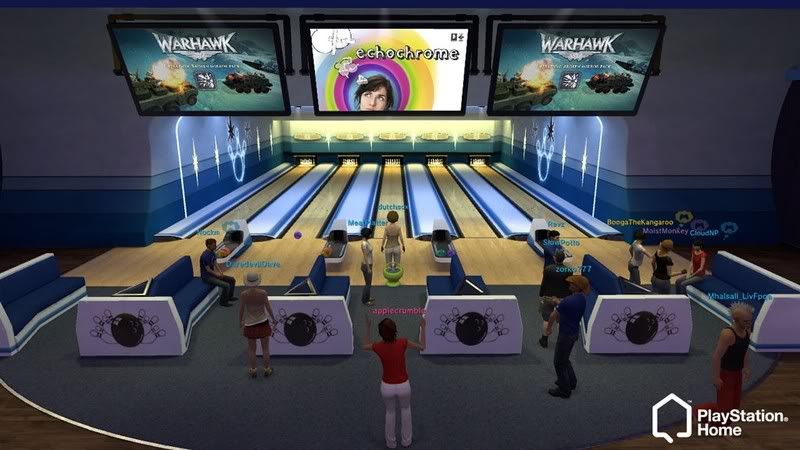 The Game Space will contain online bowling, pool, and arcade games to play and meet others with.

At first glance, PlayStation Home looks very similar to The Sims. You create a very customizable 3D avatar and have a virtual apartment you can take friends to and hang out. There are multiple places to travel to, including the Central Plaza, the Game Space, mall, a movie theater, and more on its way. Some may ask how any of this is relevant to playing games online, but PlayStation Home director, Jack Buser describes it perfectly.


"It's all about expanding the game experience. Expanding the gamer community. Every time we do anything, the first thing we ask ourselves is 'How does this expand the game experience? How does this enhance gameplay? How does it enhance existing or upcoming games?' That's our 'laser focus' with Home."
With this simple intention, the online console experience can change instantly. The success of the Wii's Mii avatars and the Xbox 360's upcoming avatars in the New Xbox Experience has shown that having a more tangible, virtual identity can really add to gaming, both online and offline. Home creates an avenue to easily connect with other PS3 users and communicate via voice headsets, keyboard, pre-programmed messages, or just simple emotive gestures. Initially planned with a focus on product placements, advertisements, and commercialism, Sony revamped Home's direction to focus more on game-related features. The service offers a multitude of areas to meet other users, view content, play arcade games, and more easily form online matches. The Game Space offers games such as online pool, bowling, or virtual arcade machines to more easily break the ice with other users and get to know them better rather than trying to gauge friendship only through brief gameplay interaction. The Central Plaza serves as the main hub of activity where many can come and socialize. The movie theater will screen various trailers with the possibility of longer content being displayed. Perhaps one of the more unique aspects of Home is that all sound is proximity-based. All voice conversations, music, video, or any other audio can be conducted without disturbance and feels more natural when moving through any area. The amount of personality and emotives available for each avatar could really add another layer of immersion and identity similar to other online communities or forums.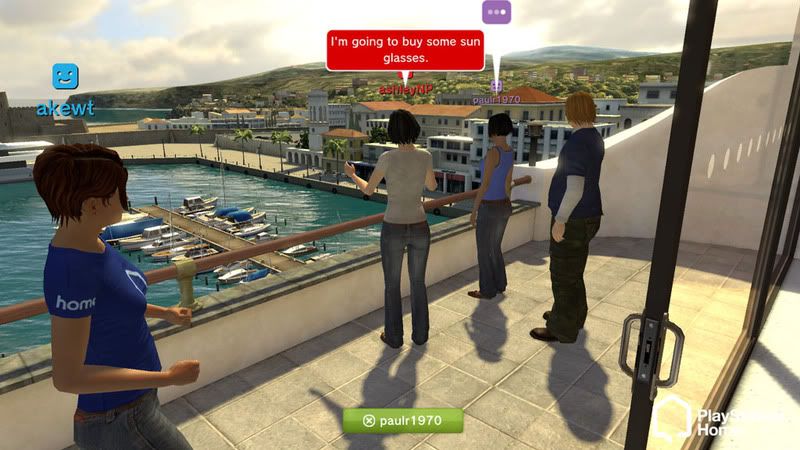 Multiple apartments will available with balconies and different views.

The idea of a virtual apartment and a mall to purchase clothing could be a fun distraction. Simply having a space to invite friends over for a more private discussion or to simply hang out in a more personal setting adds the social experience of MMO games.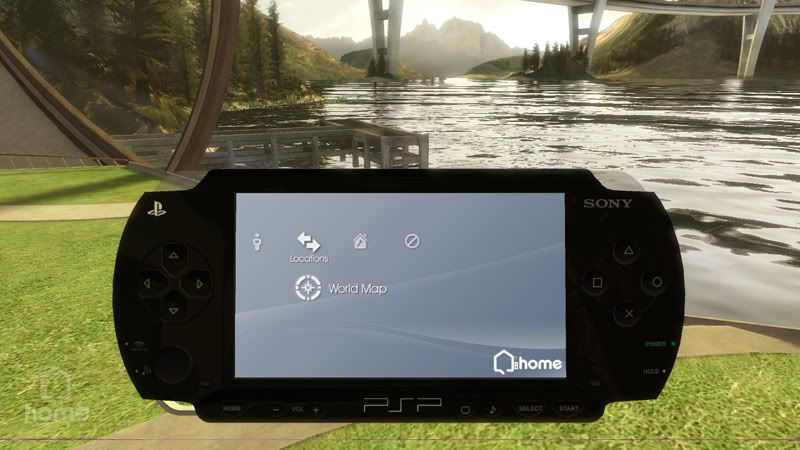 Navigation is streamlined via a virtual PSP that contains any contextual actions and a world map to warp to any location. A 2D world map will also be available that will show any expanded locations. But the ease of game launching and finding other online gamers is the main attraction. Rather than waiting in a game-specific lobby, online match settings can be set prior to launching the game and the avatar can seek other desired players or wait in exclusive third-party game areas. Titles such as Uncharted: Drake's Fortune and Warhawk contain spaces created by the game developers themselves to allow fans to more easily meet others and discuss strategies or plans prior to playing. This pulls many of the community and gameplay aspects of titles like World of Warcraft to the PS3. Pulling together a group of people to play is now more than just a random name and picture within the game. Seeing a physical avatar attached to the voice or message and communicating strategy or other conversation outside of the game can make gameplay more enjoyable and help create a more robust list of true online friends.

PlayStation Home is currently in an extended closed beta phase, but it will still be hard to gauge how the general PS3 user base will react to the service. With the 'Web 2.0' initiative creating many social community websites such as MySpace or Facebook, Home looks like a great service that brings the same feel to the online gaming arena. The fact that it will remain free means users have nothing to lose by trying it. While some may not be looking for anything else beyond strictly playing games online, Home can be great for others looking for a little more to the experience.