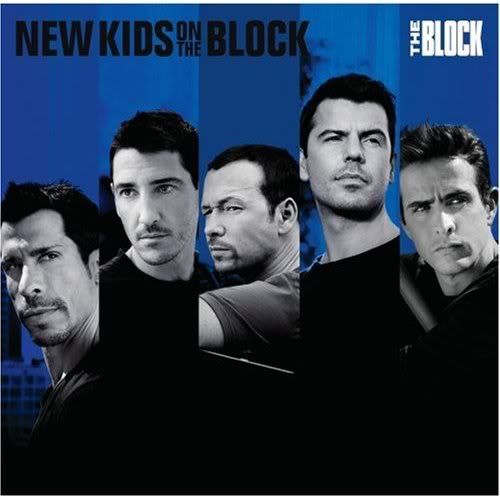 In case you haven't heard of New Kids on the Block, they were one of the first groups to really the start the boy band music phase. They formed in 1984 with the aid of producer Maurice Starr, but didn't really become big until the late 80s with their second album, Hangin' Tough. Danny Wood, Jonathan Knight, Donnie Wahlberg, Jordan Knight, and Joey McIntyre soon became household names and teen idols. After sold-out arena concerts, chart-topping singles, and a giant media & merchandising blitz that included their own cartoon, they disbanded in 1994 due to the changing music scene and feeling burnt out. There have been many attempts to bring them back together for a reunion, but this time they are coming back on their own terms and for their own reasons. After being dictated for so long and having limited control over their careers, frontman Donnie Wahlberg spearheaded the comeback to make it all about the music. With such a positive reaction surrounding their resurgence, their new album, The Block was met with much anticipation and hype. While they are known more for their ability as performers and entertainers rather than amazing vocalists, the new music was still slightly disappointing.


The members of NKOTB first started working together in late 2007 after a demo of a song called "Click Click Click" by singer/producer Nasri made its way to Donnie. After contacting the rest of the group, that was the first track to really inspire their big comeback. While their return was supposed to remain low-key, internet leaks soon led them to show their hand early and push the project up in the schedule. With Donnie putting his acting career on hiatus, Jordan, Joey, and Danny placing their solo careers on hold, and Jon coming back to the entertainment industry after leaving real estate, they placed a huge bet on trying again. The reception has been astounding, with their young fan base now adults and with kids of their own. With all of the guys pushing 40, the irony of being called "New Kids" is a point much of the media like to make. They have been fighting for musical credibility since their old days, with accusations of lip-syncing and many of their big hits being written for them. While their 1994 album, Face the Music really showcased their singing talent with an R&B influence, it failed to catch on. Now with their latest effort, The Block hitting stores, they instead went with a more "urban pop" sound that manages to stay relevant but lacks substance.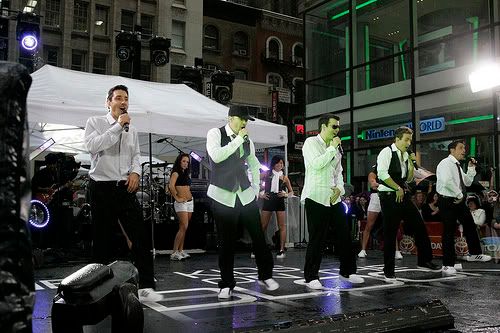 NKOTB at their first comeback performance on the Today Show. From left to right: Jonathan Knight, Donnie Wahlberg, Jordan Knight, Joey McIntyre, and Danny Wood.

From the get-go, you can tell The Block won't be a big vocal showcase. None of it sounds bad, but you can tell tools like Autotune and voice modifiers have been used to mask some of their group weaknesses. "Click Click Click" sort of became the anthem for their comeback, which has a nice R&B groove that fits with main vocalists, Jordan, Joey, and Donnie. The song talks about a guy taking pictures of his girl, which is a theme seen throughout the album. Their first true single, "Summertime" takes a safer approach, echoing their classic pop style more than any other track. The song certainly created a buzz, and their most recent single aptly titled "Single" is a collaboration with Ne-Yo. It gradually eases the listeners to their R&B/pop shift, but the overall tone of The Block will most likely alienate many expecting typical ballads or pop songs. One of the biggest things that stand out is the good production quality. Donnie is one of the main producers of the album, collaborating with others like Timbaland, Red One, and Polow da Don. None of the tracks would sound out of place on typical Top 40 radio or with R&B artists like Chris Brown. However, the lyrical content remains mostly uninspired and repetitive. As mature adults, it's a little surprising that most of their songs still talk just about sex. "Sexify My Love" and "Lights, Camera, Action" are just a few that are pretty self-explanatory. "2 In The Morning" is one of the few that actually show a little variety and depth, a slower-tempo track that discusses issues with a wife or girlfriend.

A collaboration with Teddy Riley and The Pussycat Dolls on "Grown Man" isn't a bad song, but it's typical pop fare. Timbaland's track, "Twisted" sounds a little different from his typical work. Sounding a bit more dance/techno-inspired, it has an interesting hook and beat. The tongue-in-cheek title, "Full Service" features original boy band, New Edition and is one of the more fun songs that really works. The final track, "Stare At You" is the closest thing to a ballad, but it doesn't quite resonate like their older songs. The deluxe version comes with four bonus tracks, and I think they sound better than some of the official album tracks. "One Song" has a nice dance groove, while "Don't Cry" is a nice mix of ballad and solid back beats. "Officially Over" sounds like it would be an appropriate closer with a fun jingle-like beat and vocal flow. The final song, "Looking Like Danger" is more of a typical urban pop track. One of the surprising omissions is the exclusive iTunes album track, "Close To You". Initially teased in an early video hinting at their comeback, it's a simple classic NKOTB-style track with mostly just a piano and their harmonies. I think it's one of the better songs to come from this album session, which is a shame that many won't hear or know of it.

Overall, the big New Kids on the Block comeback seems more about nostalgia than anything else. While the group members made it more about the music, there are very few tracks that really stand out on the new album. They did a great job of making modern pop music, but their vocal performances are weaker than the production itself. The repetitive and overused sexual content is a bit tiring as well. NKOTB always placed an emphasis on performing and touring, which this album should facilitate appropriately. But if they decide to stay together for another album, I hope they add more variety.