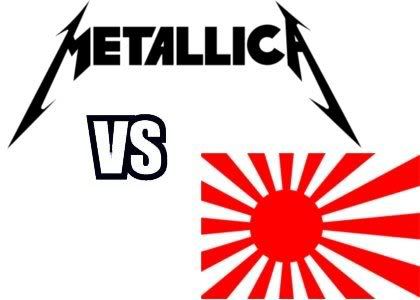 You may have seen the unintentional abundant Guitar Hero coverage here, but I couldn't help mentioning the latest news Activision has managed to stir up. Hot on the heels of Guitar Hero III, Guitar Hero: Aerosmith, Guitar Hero: On Tour, and Guitar Hero World Tour, comes Guitar Hero: Metallica. Although not official yet, Wedbush Morgan analyst Edward Woo found this listing in Activision's SEC filings. The release is scheduled to come within their 2009 fiscal year, which means by Q1 '09. Initial impressions of GH: Aerosmith seems to be unimpressed, with many critics calling it GHIII with an Aerosmith flavoring. If GH: Metallica is anything similar, it will most likely turn out to be GHWT with Metallica's likeness and setlist. The band has been losing its relevancy by its hypocritical stance on downloading songs and filesharing since they sued their fans and company Napster for stealing their songs back in 2000. Their later album releases have seen much criticism, with many saying it pales in comparison to their earlier material. And with an entire game expansion planned rather than downloadable songs, this doesn't look to improve the reputation of Guitar Hero or Metallica. There is no word yet on any exclusivity contracts such as the one between Activision and Aerosmith, but Metallica has previously announced their first new single to debut on Rock Band as well as other DLC.

And on a different note, Harmonix and MTV has recently announced the creation of a localized version of Rock Band for Japan. They are teaming up with Japanese music game developer Q Entertainment, who has produced such music/rhythm titles as Lumines and Rez HD. Announced at the 2008 MTV Music Video Awards - Japan, the game will feature "Japanese musical acts as well as other localized assets". With Japan so prominently featuring music/rhythm titles, this is the first time a US music game of this stature will be localized for the Japanese market. Rock Band was recently released in Europe with nine additional localized tracks, currently available on Xbox 360 and other console versions coming this summer. With the additional tracks also made available as DLC in the US, there is speculation on the Japanese songs being made available as DLC as well. Platforms have not been announced yet for Rock Band: Japan, but Xbox 360 and PS3 are the minimum presumed systems. Although the Xbox 360 is not completely compatible with games from other regions, the PS3 is completely region-free. If these tracks don't end up as downloadable songs, then this game may be import-friendly.

Although both Harmonix and Activision have had their fair share of grief surrounding their music/rhythm games, at least Harmonix has the right idea. With a focus on DLC and localized versions, they seem to be about spreading the music and experience. Activision is the complete opposite. I've covered these topics to death, but any opinions on the Great Music Game War? Do you stand with Activision's Guitar Hero, Harmonix's Rock Band, or even Konami's new series, Rock Revolution?