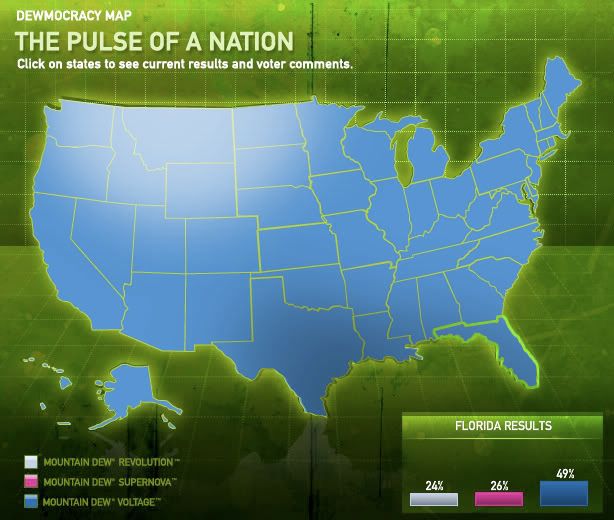 Just as one campaign is ending, another one begins. While Illinois Sen. Barack Obama has officially clinched the Democratic presidential nomination today, Mountain Dew has officially started their campaign and voting for the next Mountain Dew flavor. With online forums, various campaign tools, and a "Recruiter" ranking system, this special summer election looks to heat up quickly.


The actual Mountain Dew coloring for all three flavors are much darker and bolder.

After registering at DEWmocracy.com, you're allowed to vote once per day, recruit friends to vote and gain "Recruiter" points, and post in the online forums. Voting ends on July 31st, so there is still plenty of time to have your voice heard. Campaign tools include e-mail templates, online posters, and more for each flavor. Although voting has only just begun, the majority of states show Voltage in the lead with 40% or more of the votes. The standings between Supernova and Revolution are much closer, although states such as Connecticut and Hawaii show a much closer race for the top spot.

Rather than a single vote system, the multiple voting process allows you to change your mind if your opinions change throughout the summer. All three flavors should now be available in stores everywhere, so make sure you try them out and post your thoughts at DEWmocracy.com and here as well.

UPDATE: The polls are in and a winner has been declared. Read more about it here.