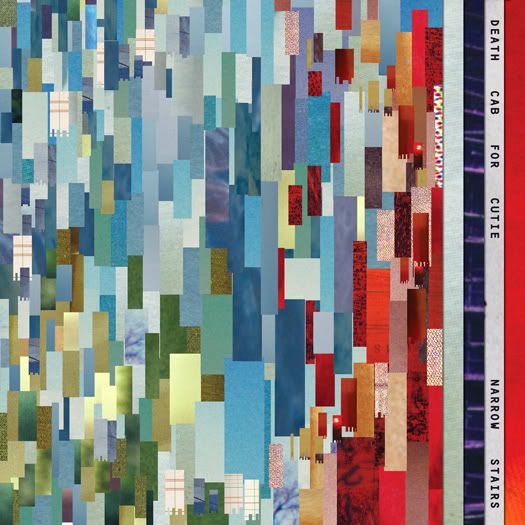 The cover art alone already depicts a noticeable change. Death Cab For Cutie has been known for their self-described "urban meadow" sound and atmosphere on their last couple records, gaining a reputation as a mellower, 'emo' band. Guitar and vocalist Ben Gibbard has an instantly recognizable singing style that he has brought to his popular side project The Postal Service with James Tamborello of Dntel, Figurine, and Headset. Guitarist and producer Chris Walla has also contributed his talents and services producing not only their own Death Cab records but also other indie bands like The Decemberists. Death Cab For Cutie have deliberately made a departure from the sound that have popularized them, instead going for something unique and with a little edge. Critics and band members alike have said opinion will be split on this new album, but the recently released Narrow Stairs takes the group in a new direction that shows growth, change, and originality.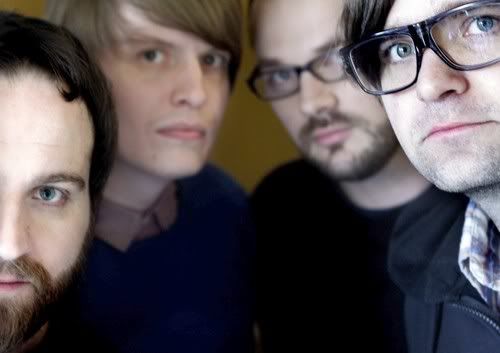 From left to right: Nick Harmer (bass), Chris Walla (guitar, keyboards), Jason McGerr (drums), and Ben Gibbard (vocals, guitar).

From the very first moments of opening track, "Bixby Canyon Bridge", they immediately create this soaring, outstanding journey that goes beyond the subdued descriptions of previous records. With crunching guitars, dissonant effects, and a noticeably active drum section, Gibbard's vocals coast along very smoothly. With the first single, "I Will Possess Your Heart" clocking in at over eight minutes, a cut down radio edit was released a couple months ago. Featuring a prominent bass line and drum groove, the full version gradually builds up as the vocals make their entrance about halfway through the song. The song sets an appropriate tone for the rest of the album, featuring an assertive tone while still maintaining their melancholy musicality. Narrow Stairs covers a wide range of styles, such as the relaxed guitar melodies of "Your New Twin Sized Bed" to the echoing tropical sounds of "Pity and Fear". There are a couple of songs that are more in line with their previous sound, but things take an overall approach that is different but still remains the same. It still sounds very much like Death Cab, but adds a new sheen that freshens things up and widens their musical palette.

One of the best points about this album is the overall darker tone. While previous records could be described as bright, Narrow Stairs runs the gamut from mysterious to somber. The instrumentation goes well with Gibbard's varying lyrical content, often either complementing or providing an interesting contrast to each song. A good example of this is "No Sunlight", which sets a happy, almost surfer-like tone to lyrics that show a gradual declination in the optimistic attitude that brought their previous album Plans into the spotlight. Clocking in at about forty-five minutes and eleven tracks, Narrow Stairs closes out the journey with the somber song, "The Ice Is Getting Thinner". Taken on such a roller coaster ride, Death Cab For Cutie travels into grounds that are new yet feel familiar. Rather than sticking with their tried-and-true formula, they experiment and produce great results. While it may sound different at first, this is a welcomed change that came unexpectedly.