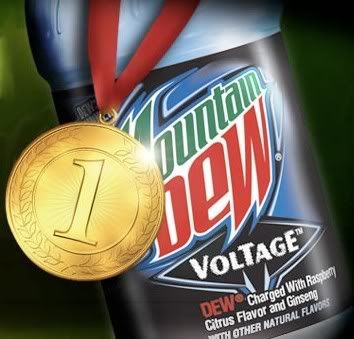 The winner of the DEWmocracy Mountain Dew contest has already been crowned and Voltage took the top spot over Supernova and Revolution. To usher in the new flavor, they're holding a contest at DEWmocracyVoltage.com to allow people to submit their own ideas with accompanying images or video on the best way to introduce the new flavor to the masses. The winner will win a trip for two to see the kick-off event live while two runner-ups will win a year's supply of Mountain Dew. The contest runs until October 14th, and a panel of judges will grade submissions based on originality, creativity, and relevancy to the Mountain Dew brand. The chosen kick-off event will take place when Voltage officially hits the market between December 2008 and January 2009. While all of this fanfare surrounding the product launch sounds like a little much, it's a great way to maintain excitement about the brand and elevate Voltage above their numerous limited edition flavors.


Dolly B's idea includes a New Year's style party in Times Square with a Voltage bottle taking place of the ball and AC/DC performing "High Voltage" as the theme song.

The contest officially launched on September 17th, but I have seen very little promotion or hype about it. Since voting ended, it seems like they haven't done much press to announce Voltage's win and upcoming introduction to market. The idea of allowing consumers to pick the kick-off event is fun, but ideas thus far either sound a little weak or very generic. Given the image and background of Mountain Dew, the winner will most likely include some sort of huge launch party with live bands, extreme sports, and celebrity endorsements. Browsing through the submissions, the list was fairly short. While there were a handful of "featured" ideas, there were hardly any others to be found. Browsing by state had very little to offer, but the contest only did just start. Although video submissions are encouraged, many of the ideas simply show a picture with their idea. Hopefully the volume of ideas increases before the contest ends.

When Mountain Dew originally announced a forthcoming contest to help introduce Voltage to the people, I was expecting it be more than a simple picture/video submission with description. I like that the contest is open-ended, which leaves much potential without restriction. The lack of promotion is a little worrying, with only a small volume of submissions viewable on the site more than a week after launching. But with two weeks still left to go, there's still plenty of time for fun and unique kick-off event ideas.