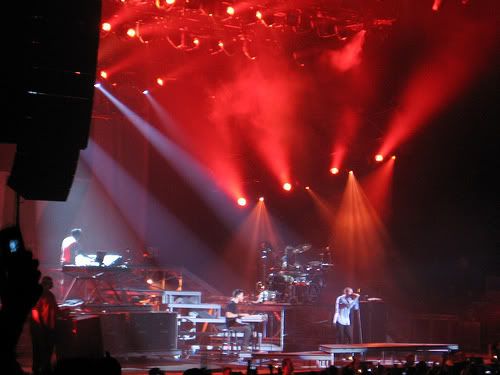 After attending my first Projekt Revolution tour last year, the Linkin Park concert definitely exceeded my expectations. Coming not long after the release of their most recent record, Minutes to Midnight, it was one of the earlier opportunities to hear many of the new songs live as well as enjoy a lot of the old ones. With this year's tour wrapping up their M2M touring cycle, their final single, "Leave Out All The Rest", and one of the last dates on the schedule, they certainly went out with a bang. While there really wasn't much in new material, the entire concert was non-stop energy with very few breaks. There were a few new intros to classic songs, a couple of remixes, changed-up setlist, and a surprise or two that kept things fresh and interesting. The entire band puts so much of themselves in the performance for the fans, it never dragged and it was actually surprising when the concert ended. Add to that their second consecutive year offering a digital download of the show, and that makes for a truly memorable experience. Picking up where I left off in Part One, Linkin Park was, of course, the highlight of the experience.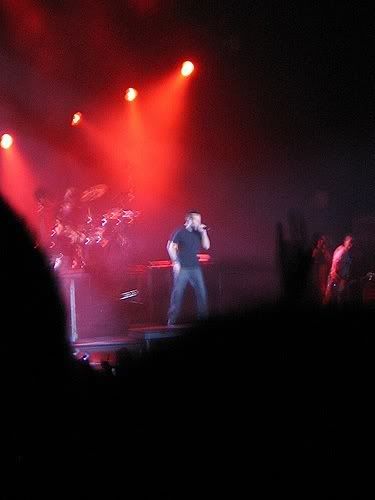 Their set started out big with a visually impressive introduction by the three-man Street Drum Corps that included an amazing percussion cadence, lighting work, and an industrial look and sound that precluded the surprising opener, "One Step Closer". Usually used as the closer, the song really energized the crowd and the set from the get-go. Other favorites like "Lying From You" was remixed a little bit and "Somewhere I Belong" kept the energy flowing. While PR'07 opened up with an exciting intro to "No More Sorrow", it was still great to hear it again. The guys didn't have much to say, instead leaving the music to do the talking for them. However, Mike did briefly mention wanting to go out (of the tour) the right way before heading into "Papercut" which just caused even more crowd reaction. As the first track off of their debut album, Hybrid Theory, it gives a nice first impression of the band and is always fun to hear live. Points of Authority also had a surprising remix/intro with Mike Shinoda's hip hop side project, Fort Minor starting things off with a verse from "In Stereo". They even went into this nice rock freestyle that changed things up a little bit. They didn't stray too far from the rock vibe, but it was a change of pace.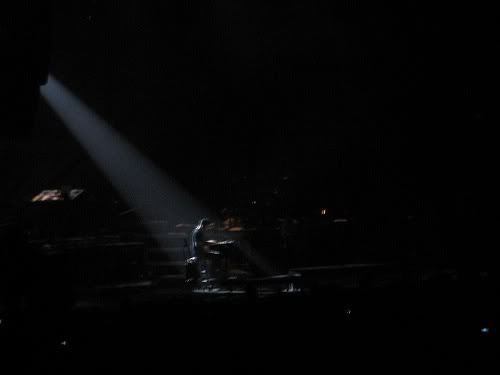 Mike Shinoda's musical talents include piano, guitar, rapping, and singing.

They went into "Wake" with an exciting new intro, which just built up more excitement for "Given Up". Although "From The Inside" may not be one of their bigger songs, it's one of those concert favorites that's always really great to hear live. They slowed things down a bit in their next section of songs, but changed it up from their set. After going into their current single, "Leave Out All The Rest" with Mike on keyboard, they went into another popular hit, "Numb". But perhaps my favorite song in the whole concert was "The Little Things Give You Away". It's the last song on Minutes to Midnight and has so many amazing little details and an ethereal atmosphere that I've rarely heard captured as well as this performance. With Mike starting out with a piano intro, it all just gelled perfectly. Chester's vocal work was spot-on and Rob's drum solo built up to Brad's guitar solo. In the studio recording, Mike layers his voice to create a three part harmony with Chester to finish the song. Bassist Phoenix normally joins in to recreate this, but it has never sounded so amazing until now. "Breaking The Habit" was moved around, but ended instead with Chester singing the chorus a capella. "Shadow of the Day" is another great slower tempo song from M2M that closed out their mini-section.


Mike Shinoda (left, rhythm guitar) and Phoenix (bass) playing together.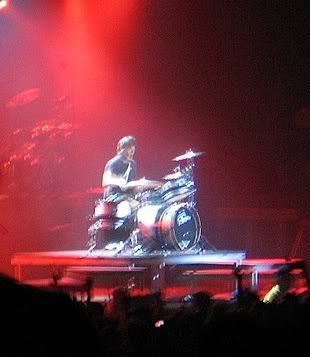 Mike once again changed things up a bit by adding a verse from "Hands Held High" to the intro to "Crawling". This was one of the first songs I heard from the band, so it's another song that's great to hear live. It was made even better when Chris Cornell of Soundgarden and Audioslave returned the favor from earlier in the show and came out to sing with Chester. They officially ended their set with "In the End", but came out for an encore with a new intro to "What I've Done". Another live favorite, "Faint" closed out the encore, and a handful of people actually started to leave. But then another drum set was set up at the front of the stage where Rob Bourdon proceeded with an amazing drum solo. That led into a great finish with "Bleed It Out", which really fit with the overall tone and energy. It was made even more exciting when Street Drum Corps came out again to join the band with marching band percussion instruments in tow. While they had their own percussion break, Rob joined the group to close out the song in this epic drum finish that was pure adrenaline. It ended on a great note that had the sold-out crowd cheering.



It may not have been packed with new material or anything revolutionary, but it was a concert for the fans that never felt old or stale. The new changes and additions were fun and all of the big songs were played. I was hoping for a couple of down tempo tracks like "My December" or "In Between", but Linkin Park played non-stop and kept the crowd excited and the energy coming. The elevated stages, varied instrument positioning, and the amazing light work all added to a great experience that felt unique from the previous year. The entire Projekt Revolution tour is really solidifying its position among the other great music festivals and offers a nice injection of alternative rock.