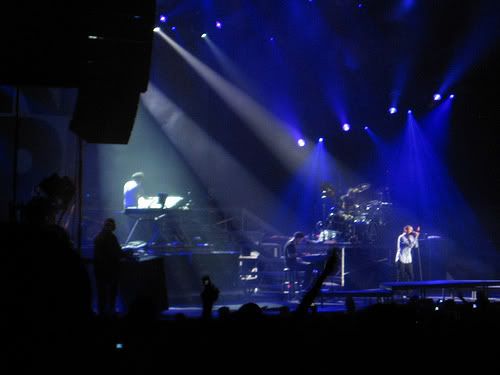 Many artists have started their own music festivals to showcase favorite bands, particular genres, or sometimes just a certain atmosphere or feeling that other tours don't necessarily exude. Projekt Revolution is no different and was first started up by Linkin Park in 2002. Originally intended to mash up different genres similar to the band's diverse musical make up, it has since become a more rock-oriented show after returning last year from a brief hiatus. Projekt Revolution 2007 was my first, and it nicely showcased smaller artists on its second Revolution Stage while showing the bigger names on the Main Stage. Featuring artists like Mindless Self Indulgence, HIM, and My Chemical Romance, it was jam-packed with star power and great music. The tour also "went green", donating portions of their ticket sales to their Music For Relief charity and using bio-diesel in their tour buses to reduce emissions. With Linkin Park's most recent album, Minutes to Midnight just recently released, their concert felt new and exciting. With this year's festival, they took everything a step further with their charities, the music, and the excitement. Headlined by Linkin Park and Chris Cornell of Soundgarden and Audioslave, it definitely had a distinctly different feel. While LP was the main attraction, the other bands also put on a really strong showing.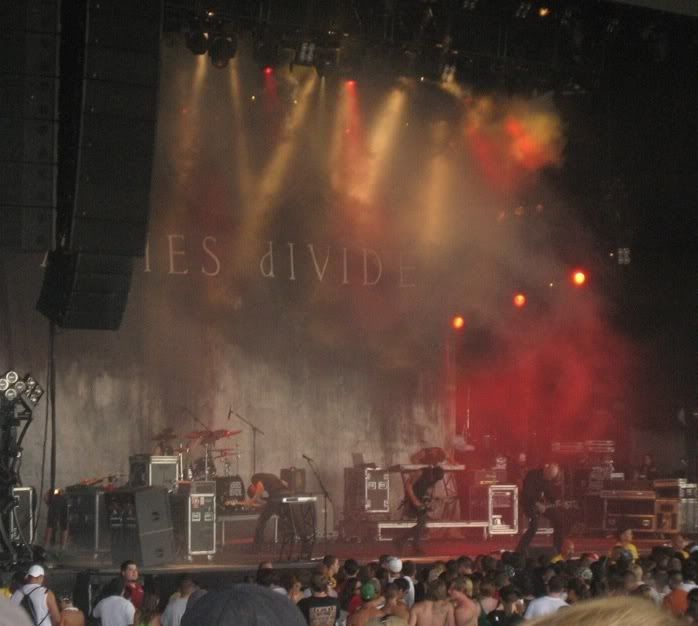 Projekt Revolution 2008 was the first to tour outside North America and featured exclusive bands like The Used, N.E.R.D., and Jay-Z. The US tour bands stayed closer to rock than hip hop, but it was still a great show. I unfortunately missed the Revolution Stage in its entirety, so I didn't catch Atreyu, 10 Years, Hawthorne Heights, or Armor for Sleep. I did see most of the Main Stage, but missed the first performance of Street Drum Corps as people were coming in. Things really started off with ASHES dIVIDE, which features frontman Bily Howerdel of the Tool offshoot, A Perfect Circle. I was mostly unfamiliar with the new band, but they are described as "at times very atmospheric and moody, and at other times very heavy riff-driven with tribal-like drums." From what I saw, that statement actually holds true. They could do a slower and slightly mellow song and it wouldn't sound out of place with a bigger, heavier song. One of the tunes that fits perfectly is their new single, "The Prey". It features some catchy melodies with some fun riffs. Their first single, "The Stone" shows how it can be a little heavy and atmospheric at the same time. "Forever Can Be" is also a good example of something a little lighter but full of emotion. As their first tour, ASHES dIVIDE made a nice impression. They had problems maintaining energy and crowd reaction, but that was more likely attributed to their early spot on the stage, smaller stature, and inclusion of mellower songs in their set rather than an all fast-paced, up-tempo affair. They recently released their debut album, Keep Telling Myself It's Alright and are definitely worth looking into.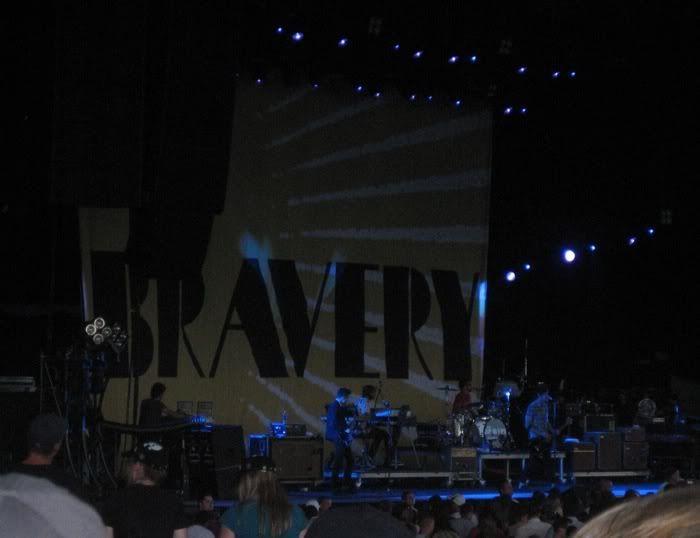 Busta Rhymes was supposed to appear on the Main Stage, but he left the tour early due to "complicated business matters". I was disappointed to miss his performance but wasn't really a huge fan. I was interested in how well The Bravery would do, and they didn't disappoint. I'm mostly a casual fan, but they had this stage presence that commanded your attention. A nice variety of songs were played from their two albums, The Bravery and The Sun and the Moon. One thing that stood out to me versus their studio recordings is their great bass-heavy sound. It made everything sound bigger and better, even though their music isn't exactly my favorite. They opened with "Swollen Summer", a nice energy-packed song that continued the pace throughout. Their most recent single, "Believe" has seen some decent radio airplay, but lead singer Sam Endicott showed his strong personality when he messed up the lyrics during their performance and was joking that his lyrics "were like jazz." He also pointed how well-read the crowd was when he dedicated "Time Won't Let Me Go" to the audience and the characters in the novel/film adaptation of The Outsiders. Songs like their debut single, "Honest Mistake" still had that great 80s-like New Order vibe and "Every Word is a Knife in my Ear" was just pure fun. They may not have been my favorite, but this NYC-based group gave a lot of energy and personality that made for a really good set.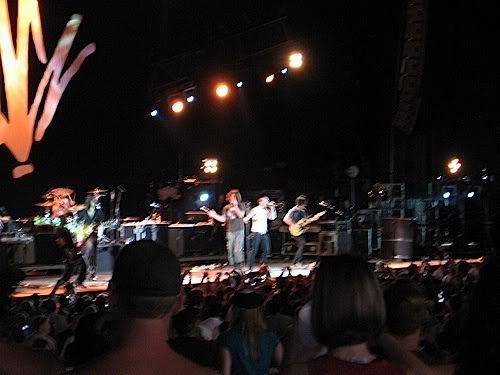 Chris Cornell and Chester Bennington of Linkin Park teamed up on the song, "Hunger Strike".

Most people probably know Chris Cornell best from his days with Soundgarden and the recent supergroup, Audioslave, but he's just recently went solo and put on a great performance that showcased his chameleon-like ability and a setlist that had songs both new and old from his former bands and off his upcoming solo album, Scream. He really got the crowd excited when they played a pre-recorded strings arrangement of "Black Hole Sun" before his show started with "Cochise". He masterfully controlled the crowd, with virtually everyone on their feet for his set. A nice addition was during "Hunger Strike" when Chester came onto the stage to help sing the part normally done by Eddie Vedder. The new material also sounded really great, as "Watch Out" had a nice groove and a little R&B feel to it. Other hits such as "Like A Stone" was redone as a solo acoustic piece and "Be Yourself" had a nice drum build up and largeness to it. He even dedicated "Show Me How to Live" to his former bandmates in Audioslave. "Scream" is another new track that had this melodic beat very different from his previous work. As the name implies, it really displayed his command of the crowd. And of course, he finished it off with perhaps his most popular song, "Black Hole Sun". It still sounds fantastic years later, not to mention the amazing guitar solo. His show was like a marathon of energy and hits with new material stuck in-between. With Chris Cornell constantly changing form in each of his projects, I like where he's heading now.

While I wasn't as familiar with the bands in this year's tour as I was previously, they still put on an energetic show. I'm still disappointed to have missed some great acts, but I liked what I saw. With the tour coming to a close, they put on a great performance that came to a climax with Chris Cornell. Look for my review on Linkin Park's show coming soon.

UPDATE: Check out Part Two and my review of Linkin Park's performance now.