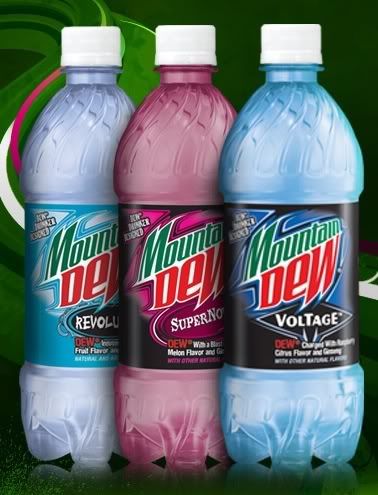 After much deliberation and campaigning, the voting booths have officially closed at DEWmocracy.com and a winner has decided. The polls were pretty lopsided to begin with, as Voltage had a commanding lead in every state. Whether this speaks for the poor quality of Supernova and Revolution or some crazy conspiracy theory, the announcement of the winner on August 18th is going to be pretty obvious. While I personally felt that all three were mediocre, Voltage had the strongest Dew flavor. They have been hit-and-miss in their "limited edition" flavors, with only LiveWire becoming an official part of the line after a string of limited summer releases.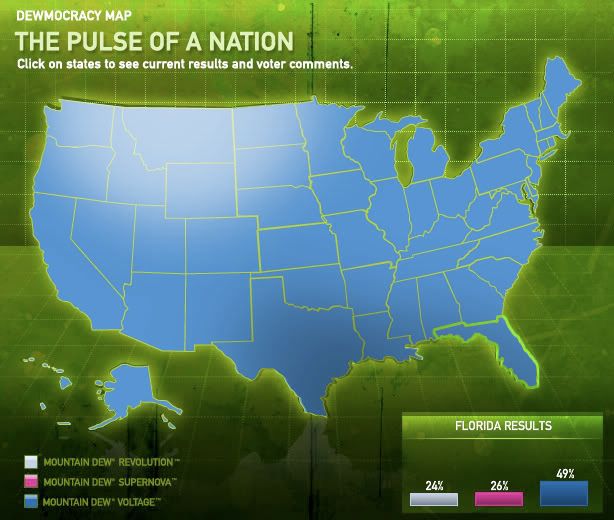 Mountain Dew Voltage had dominated the polls when voting began in June 2008.

Although voting has closed, their Video Maker is still up and improved. The tool allows you to create your own 20 second video via preset visual effects, video clips, images, and audio tracks, which you can then send to friends or make a new one. While it is a bit shallow, they've added a few new items to use and it is a little fun to mess around and create your own Mountain Dew ad. And with the success of their DEWmocracy campaign, they're going to announce a new contest soon to decide how the winning flavor is going to be "introduced" to the people. It's a nice change to allow the consumers to have such a hands-on role in product testing and marketing, but it feels like a bit of a gimmick. But regardless, this has been a great way to revitalize interest in the brand as well as stimulate sales.

Unless there's a major upset with some lost votes or ballots, the winner has been pretty much decided. Hosting a new contest is a good way to continue the momentum and show that Voltage isn't just another limited edition flavor that will be gone in a couple of months. The official message board is still open, so you can still predict your winner and get a head start on that marketing contest. Expect more once the winner is announced and details are unveiled.

UPDATE: The polls are in and a winner has been declared. Read more about it here.