Without a doubt, Matt Morris has a very musical background. Probably most well known as a cast member of the Disney variety show, Mickey Mouse Club with names like Christina Aguilera, JC Chasez, and current collaborator Justin Timberlake, he has since established himself as a well-rounded artist, musician, songwriter, and performer. Son of 80s country music star Gary Morris, he has created several chart-topping hits for Kelly Clarkson, Reba McEntire, and friends Christina and Justin. Recently signed to Justin's new music label, Tennman Records for his first official album, The Un-American LP, he is finally getting a chance to show off his skill. Well versed in the nuances of pop music, his independently released 2003 album UnSpoken really displays how far he exceeds the genre.


While his writing credits prominently feature mainstream pop music, UnSpoken is just about the opposite. All songs on the album were written, arranged, performed, and produced by Morris himself, which makes it that much more impressive. The music is acoustic, soulful pop which sets a mood with his guitar, piano, and vocal skills. There's a nice simplicity that goes so much deeper. He keeps things basic while still preserving the emotional element and full arrangements. The title track is broken into four separate parts spread throughout the album, creating a very smooth environment and showing a nice progression that fits very well. Set with only a piano and unspoken words, it says so much without having to say anything at all. There's a peacefulness felt that goes on a rollercoaster of emotions. "Eternity" talks about spirtual subject matter that still keeps a universal appeal and relatability no matter personal faith. Songs like "The World I'm Living In" has a nice bluesy feel with a bigger bass and a showcase of his vocal talent and the emotion he puts into each track.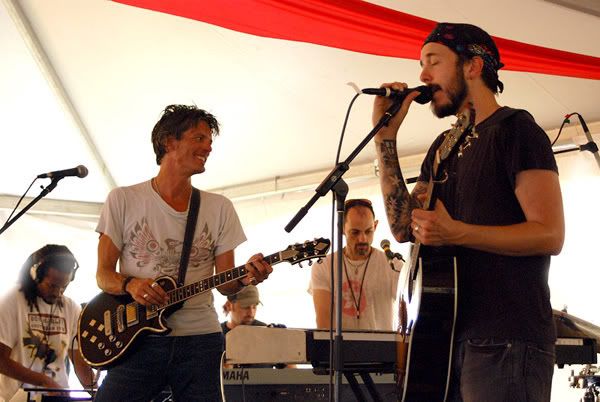 Matt Morris (right) performing new material from his official upcoming debut album, The Un-American LP.

While UnSpoken is mostly a solo project with Morris undertaking writing, producing, and performance duties, he worked with a handful of artists. Multi-talented artist Cystal Taliefero provided some percussion work for "Let Me" and "You Won't Be There" that adds a little excitement and variety to go with some of the more subdued songs. The deepness of "Let Me" hits its stride as the chorus kicks in, with the bongos one of the main contributors to the sound. Morris's vocal groove in "You Won't Be There" is only better with the ambiance of the added percussion work. Morris's close relationship to Justin Timberlake shows not only in his recent record deal but also their collaboration in the track "Go Away". Rather than following the formula of a typical pop collaborations, the feeling is much more subtle with Timberlake's additional touches heard in the lyrical content, song structure, and background vocals. UnSpoken shows Matt Morris's skill on the piano, but "You Were Mine" shows how good he is with just an acoustic guitar and his voice. A bittersweet song about an old love, it just reinforces his talent to tell a story and write songs that have feeling and depth.

UnSpoken is a nice record that stays on the mellow side with its more basic structure and selection of ballads. There isn't as much variety, but he does what he does well. Because he took on all duties in this independent release, it really shows his versatality, musicality, and what he offers and is capable of. His upcoming first debut album, The Un-American LP will have producers Justin Timberlake and Charlie Sexton's touch, as well as a bigger sound and more diversity. But UnSpoken is a nice look into the well of emotions that Matt Morris offers.