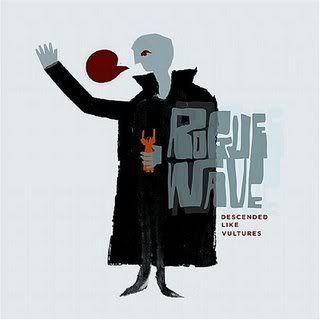 After seeing them as opening act for Death Cab For Cutie's summer tour and enjoying the handful of tracks I previewed prior to the concert, they went from unfamiliar band to an impressive and unexpected gem. Indie rock group Rogue Wave left a strong impression and one that encouraged me to purchase their 2005 sophomore release, Descended Like Vultures. While I can't quite compare it to their first album, Out of the Shadow or their latest one, Asleep at Heaven's Gate, the songs I've heard throughout their discography has shown a nice development with this record displaying their indie rock stylings nicely.

Outside of listening to a few tracks before the concert, their performance arrived relatively new to me. Their strong live sound and presence set the tone for the show, which remained energetic and fast-paced. With so much personality and passion in their set, it doesn't quite shine through as clearly in Descended Like Vultures. The album has a very polished feel, with nary a bad song in the eleven tracks. Some bands sound better either on studio recordings or in live performances, and Rogue Wave happens to be the latter. The album exhibits a range of moods, with opening track, "Bird on a Wire" starting things off with a nice groove and a fun, story-like feel. Acoustic number, "Salesman at the Day of the Parade" shifts moods once again with Zach Rogue's vocal work complementing the simpleness of the track. The fast-paced "10:1" has an almost 'punk-like' attitude while "Medicine Ball" continues the pace with a stripped down piece and Rogue's flowing vocal ditty. One of my favorite songs on the album is "California". With a nice acoustic guitar hook, Rogue sings about how artificial and fake it can be while simultaneously being drawn towards it.


From left to right: Zach Rogue (vocals, guitar, wurlitzer), Gram LeBron (guitar, keyboard, vocals, drums), Pat Spurgeon (drums, keyboard, samples, vocals), Dominic East (guitar, pedal steel, vocals), and Patrick Abernethy (bass, piano, keyboard).

Descended Like Vultures dominantly features work from Zach Rogue and Pat Spurgeon, both a pseudo jack-of-all-trades persona. Gram LeBron contributed throughout the album, but band members, Dominic East and Patrick Abernethy didn't join until after the album's release. Second bassist Evan Farrell left the group in 2007, and subsequently passed away from 'massive smoke inhalation' from an apartment fire due to an obsolete floor furnace. However, the simpleness of the original four-man group and their indie feel greatly contrasts with the bigger sounds and modern rock attitude of their later work. Listening to and comparing older tracks with new ones gives a very split opinion. With the concert and my first impression dominated by the energetic band of Asleep at Heaven's Gate rather than the subdued one of this record, it's difficult to discern preference and quality for a new and casual fan. While the new songs had more energy, many of the tracks on Descended Like Vultures has more heart and feeling.

Zach Rogue remains one of the constants on Descended Like Vultures, and the simpleness and various subtleties he gives each song are noticeable. There aren't too many stand-out tracks on this one, but they're all relatively good with something to like in each one. Their latest release, Asleep at Heaven's Gate features stronger singles like "Lake Michigan" or "Harmonium", but Descended Like Vultures has the emotion and continuity that makes Rogue Wave a good listen.