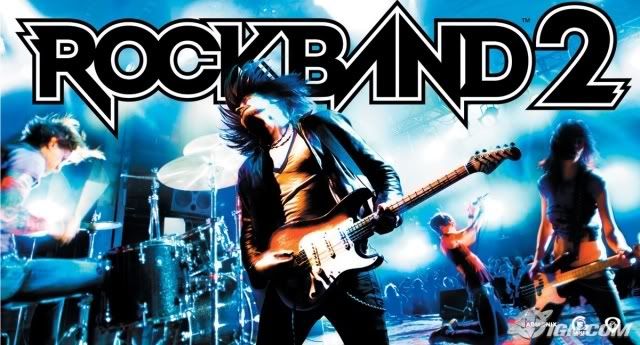 Not only will this fall show off a fierce battle with new titles, Rock Revolution and Guitar Hero World Tour, but it looks like Harmonix is throwing their hats into the ring with a new entry in the Rock Band franchise. Not just settling for a sequel with a new song list, a slew of new features, online modes, and improvements have been made to the game as well as "quieter, more realistic, and more reliable instruments." While GHWT can boast its music studio modes and additional drum cymbal, RB2 is looking to add much more. Although the game won't make its debut until E3 2008 in a couple of weeks, it already sounds like they have been listening to the fans. The game is slated to release in September on the Xbox 360 for an "exclusive launch window" with other unspecified platforms coming before the end of the year.


Rock Band 2's new guitar.
One of the biggest issues with the original Rock Band was instrument build and quality. Their robust warranty program alleviated some of the pressure, but it looks as though RB2's instruments will be much more reliable. These new instruments also seek to "customize the experience" and feature "enhanced functionality and innovative new designs." It looks like they're opening things up for other peripheral makers, giving the user the choice of guitar and drum preferences. Given that there will be three band simulation games with three separate sets of instruments coming this fall, at least Harmonix has the consumer in mind with open compatibility. Despite the fact that Activision CEO Robert Kotick erroneously claimed Guitar Hero World Tour to be the first full band experience, their music studio and editor looks very robust and impressive. While Rock Band 2 doesn't look to include a mode like this on the disc, it is something they want to be fully realized and integrated before featuring it in their game. Harmonix has an interest in user-created content and many of the developers have been involved in various music groups.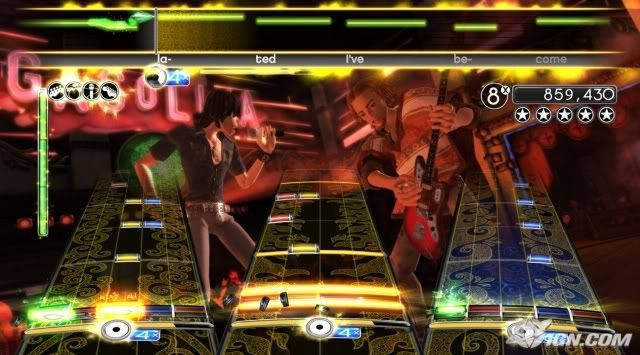 There is speculation that this gameplay screenshot depicts Nirvana's "Drain You".
Many of the new features, improvements, and planned songs for Rock Band 2 is being kept under wraps, but they have said that all current and future DLC will be cross-compatible between games. While Activision has shown to abandon previous GH titles with a lack of downloadable content and song compatibility between titles, Harmonix is showing their dedication and taking the next step with "new features that let you play your DLC in different ways." RB2 Lead Designer Dan Teasdale has called the on-disc setlist as "the best setlist (he's) ever seen in a music game." All songs have been confirmed to be master recordings that will span a wide variety of prolific rock acts. There is speculation that the sole released gameplay screenshot is of Nirvana's "Drain You". They teased some of the new online modes and features, but didn't reveal anything solid. Although not officially confirmed, an online Band World Tour mode was hinted at, with some improvements mentioned to random setlists and a deeper touring experience. Other notable mentions include work on improving the singing/guitar combination and ways to help "transition from Expert (difficulty) to real instruments." Overall, the point was emphasized that there would be "new ways to play your music library."
Rock Band's DLC model has been incredibly successful, boasting over 15 million paid downloads. Outside of speculation on Nirvana, there have been reports that Turbonegro, Bad Religion, and AC/DC would also be featured in the sequel.
IGN's interview
with Dan Teasdale also revealed a list of bands that may be included on the RB2 disc.
Agent Orange
The Beatles
Built to Spill
The Buzzcocks
Journey
Led Zeppelin
Modest Mouse
Pavement
The Replacements
Tool
Teasdale wouldn't say which bands are in the game, but there have been rumors that companies like Harmonix, Apple, and Activision have been involved in negotiations about digital releases of The Beatles catalog. The absence of new Weezer song, "Pork and Beans" in the latest DLC three-pack just recently released could also mean its inclusion in Rock Band 2. With other longtime desired groups like Journey and Led Zeppelin in the list of possible included bands, the RB2 setlist may really be one of the best ones yet. Outside of their music editor suite, it looks like Activision is mostly copying ideas for Guitar Hero, With Harmonix, it looks like they may really be providing some innovative ideas. Look for more details around E3 2008 in a couple of weeks.