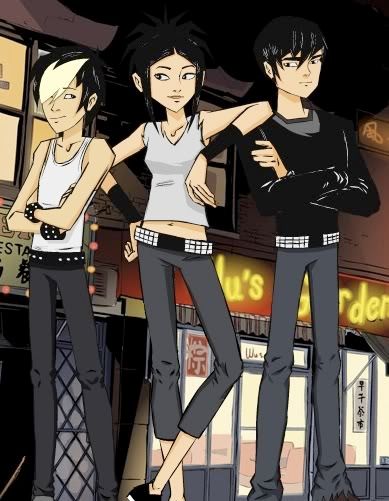 From left to right: Tobey, Sue, and Sid.

It certainly looks promising. You have visually appealing flash animation, promising action elements, and a definite Asian influence and presence seen throughout the cartoon. But then you get to the show's premise. Straight from the mind of Kappa Mikey and Speed Racer: The Next Generation creator Larry Schwarz comes Three Delivery. I kid you not, here's the basic premise. Three Chinese orphans, Sue, Sid, and Tobey use their kung-fu and newfound magic ability to become superheroes, deliver Chinese food, and save Chinatown from evil apprentice Kong Li, who is bent on unleashing dangerous recipes from a magical cookbook. It sounds a bit cheesier than it looks, but this has the potential of being a nice homage to Asian culture or becoming a poor mockery. This action-comedy children's show is making its debut on the Nicktoons Network tonight and is apart of the growing trend of Asian-influenced martial arts cartoons.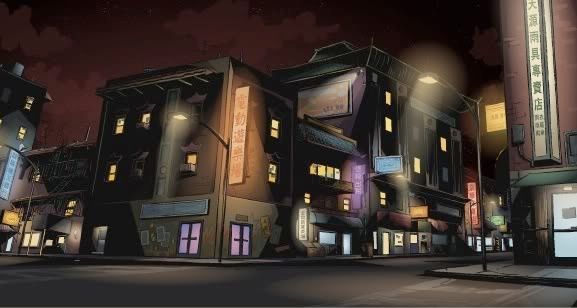 Despite the fact that the entire show takes place in Chinatown and is full of Asian references, you would be hard-pressed to find an Asian name among the production crew outside of "cultural consultant" Pei-Chen Chen. Schwarz was heavily influenced by his childhood in New York City, citing memories of sneaking to Chinatown to try and buy fireworks and throwing stars as a kid. His team scouted Chinatowns across the country to create the one seen in the series, hoping to preserve the Chinese culture while providing a modern twist. Art director Alan Foreman prepared for the action scenes by watching kung-fu movies and researching Shaolin monks to help keep authenticity. He was quoted as describing the chemistry between the small cast as "The O.C. with dragons". Nickelodeon Director of Marketing Craig Coleman seemed all too happy to bring Three Delivery on board and further capitalize on the growing popularity of anime. With the hugely successful Avatar: The Last Airbender wrapping up this summer, they were looking for another show that would fit their demographic and feature similar themes. They already feature a young children's show on their Nick Jr. programming block that fits along the lines of Dora The Explorer, titled Ni Hao, Kai-lan. While this American cartoon is sounding like it's missing some true authenticity, it's not without its positive points.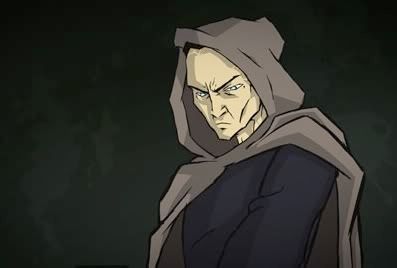 Three Delivery looks to have a strong voice cast, with Stephanie Sheh (Sue) and Eyeshine's own Johnny Yong Bosch (Sid) recognizable in series like Bleach and The Melancholy of Haruhi Suzumiya. You will also find a mostly Asian cast, which is reassuring since they are playing Asian characters. Comic books and graphic novels inspired the impressive art and character designs, and the flash animation looks very clean and polished. While it looks to be marketed towards a younger demographic, it still shows promise for a wider appeal. As Foreman mentioned, the chemistry between Sid, Sue, and Tobey looks to be strong and will hopefully carry over to the action scenes with villain Kong Li. Three Delivery looks stronger than similar shows in this new genre, but there's the constant danger of it falling into one of the many potential pitfalls.

There seems to be a lot of charm present, but we will soon discover if that will translate well in its overall premise and longevity. The New York Times review has one of the first comments, which already foresees issues with keeping things fresh. Asian jokes and references were noted, but said, "nothing in the show feels like Asia". Regardless, you can make your own judgment and check out some short clips at the Nicktoons page or explore the official interactive site. Despite the stereotypical nature of Three Delivery, it at least appears to respect its source material.

UPDATE: You can now watch the entire first episode, "I Feel The Earth Move" at the Nicktoons website. I'll be back with my thoughts soon.