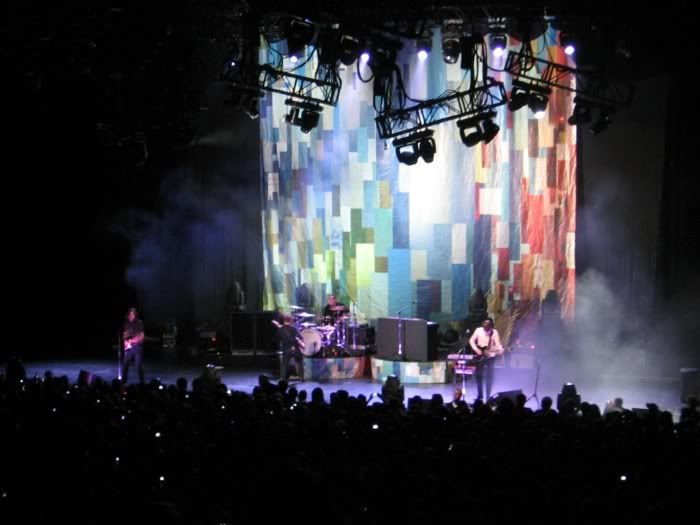 Death Cab For Cutie has energized their tour with a nice dose of rock. Their latest album, Narrow Stairs has gone away from the "urban meadow" atmosphere of the last couple records, and went with a more edgy sound. This has permeated throughout the show, as opening act Rogue Wave also brought a great rock attitude with an indie feel. Both bands brought a lot of energy to create a very entertaining show.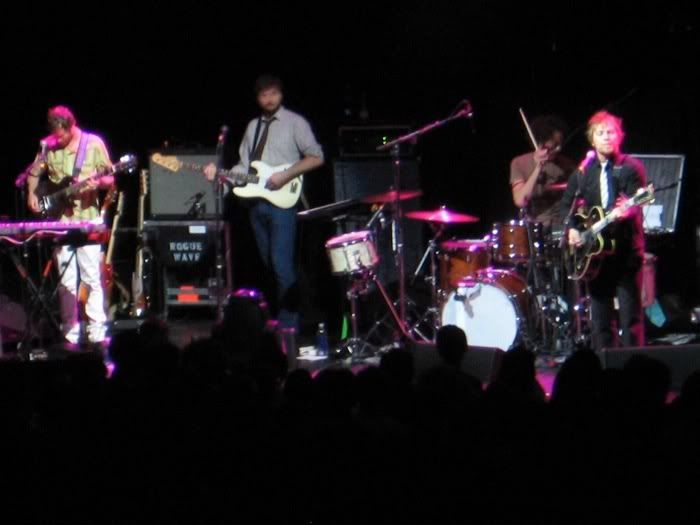 I was mostly unfamiliar with Rogue Wave until I saw their name with Death Cab. After sampling some of their songs before the show, I was very impressed with their live sound. While their album recordings sound a little more subdued, their performance rocked a little more. While the venue itself was a little larger than the size of an IMAX theatre, the lighting and stage effects made it feel more personal and intimate. They had a nice stage presence, but you could definitely see vocalist/guitarist Zach Rogue's personality shine through. When some fans cried out for them to perform "Medicine Ball", Rogue even went into a mini-performance of the song. Their set list had songs like "Bird On A Wire", which displayed their nice indie rock sound.

One of the major highlights of their performance was this amazing drum interlude that had almost every member masterfully performing a cadence leading into "Lake Michigan". Although "Harmonium" starts off their latest album, Asleep at Heaven's Gate, it appropriately finished off their show. The song gradually escalated, with the line, 'We better bust them out' becoming a rally cry to close things out. After being inspired to pick up one of their albums, expect impressions of Descended Like Vultures in the future.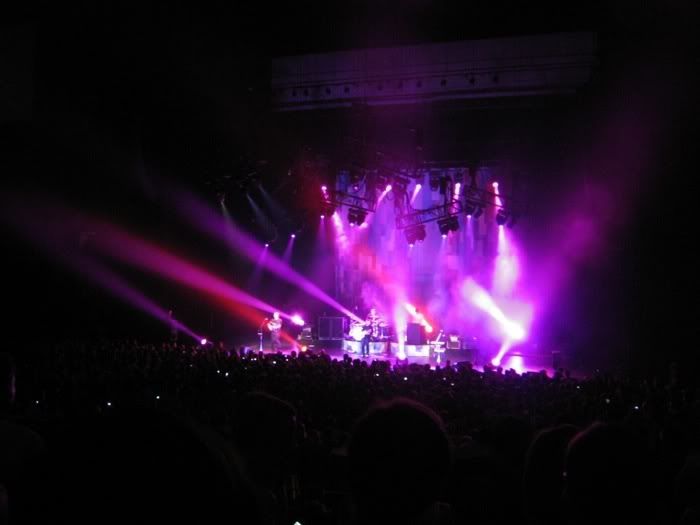 Death Cab For Cutie kicked things off with their latest opening track, "Bixby Canyon Bridge". From there, everything was injected with a nice edge rock sound. Front man Ben Gibbard could be seen with a sense of liveliness, foregoing his trademark glasses and radiating energy with his guitar playing. The amazing lighting effects really helped set a distinct tone for each song. Songs like "The New Year" and "Photobooth" continued the energetic start, as they shifted gears a bit with new tracks, "Long Division" and "Gravevine Fires". Their previous album, Plans helped put them in the spotlight, and single "Soul Meets Body" showed off a dazzling array of lights and colors. Acoustic song "I'll Follow You Into The Dark" slowed things down a bit, only to escalate with their latest single "I Will Possess Your Heart". Set on a dark stage with ambient light and a single white beacon, the song was complete with the four minute intro. Other popular tracks like "We Laugh Indoors" and "The Sound of Settling" also brought a lot of energy.

Like most concerts, Death Cab came back for an encore with "Title and Registration". One of the more noticeable lighting effects came from the new song "No Sunlight". The upbeat orchestration and somber lyrics were complemented well by the orange and yellow stage lights. Favorites like "405" and "Your Heart Is An Empty Room" were played, but the true finale was a stunning one. Set with a single spotlight on Gibbard playing piano, the constant energy that fueled the whole show was left for the beautiful "Transatlanticism". The gradual build-up with the full band making their entrance was amazing.

As a whole, Death Cab For Cutie is starting on the right foot with their 2008 Summer Tour. Rogue Wave is a real gem that deserves a listen. Death Cab has infused their old and new songs with a lot of energy, featuring driving guitars, solid drum line, and hard-hitting melodies. With a nice mix of songs and styles, they put on a great show.