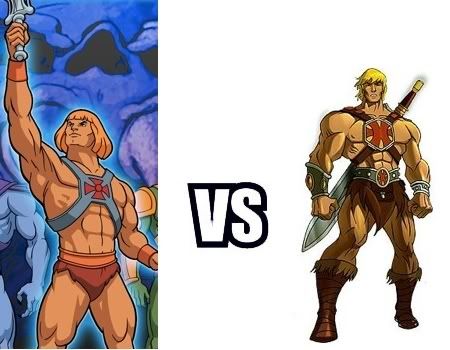 The project started out as a mere advertisement for Mattel's action figure line. A full season of sixty-five episodes was ordered for Filmation, and He-Man and the Masters of the Universe made its debut in 1983. Featuring the cheaper and less time-consuming limited animation technique rather than the more expensive realistic approach taken by such predecessors as the Walt Disney cartoons, it looked to be a low-budget commercial for the toys. But upcoming animation writers such as Paul Dini, Larry DiTillio, and J. Michael Straczynski made their start on He-Man and used their masterful storytelling and direction to create a cartoon that had unprecedented action scenes, a deep and fleshed out storyline and universe, and multi-layered characters. Despite controversy surrounding the cartoon in the '80s about its "violent" nature and its more blatant marketing towards young children, the show became a huge hit and spawned 130 episodes and a successful spin-off series in She-Ra Princess of Power. As sales gradually tumbled, Mattel ended its contract with Filmation for He-Man and She-Ra in 1986.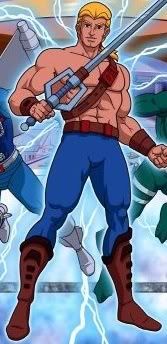 The show still remained popular in the late '80s in syndication, and Mattel took advantage and approached Jetlag Productions to create a more futuristic He-Man as Filmation had already shut down. The New Adventures of He-Man debuted in 1990 and was met with much criticism due to its large departure to the original series. Primary developer Jack Olesker focused on the more science fiction elements of He-Man rather than the magic and fantasy aspects of previous series. With many past recurring characters not making an appearance in this new series, fans had a hard time adapting to the changes. Despite the good character development and continuity between episodes, the show wrapped up the next year.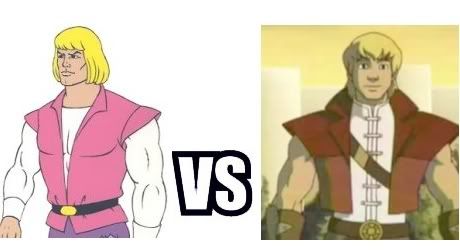 Adam became younger in the Mike Young Productions remake compared to his older counterpart in the classic Filmation series .

While The New Adventures of He-Man is generally disregarded and forgotten by many fans, He-Man saw a revival in 2002 with Mattel bringing back the toyline for a new animated series animated by Mike Young Productions. Staying more in the spirit of the original show, He-Man and the Masters of the Universe relaunched with a modern look and classic feel. Featuring original series writers like Larry DiTillio, a renewed effort to maintain continuity, and such additions to the mythos like an animated origin story for He-Man, Mattel and MYP looked set to bring back the He-Man universe for the 21st century. After two seasons and 39 episodes, the series ended its run in 2004 due to disappointing ratings and sales. But with every single He-Man series currently seeing a DVD release and rumors of a new live-action movie in development, Mattel may be set to bring back He-Man for another try. With another revival possibly in the works, let's take a look at how the original He-Man and the Masters of the Universe compares to its 2002 remake.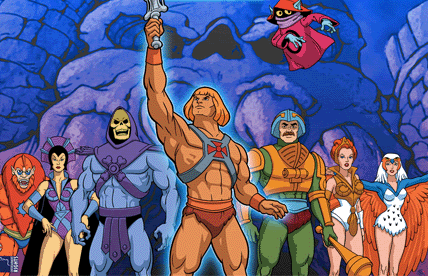 The classic He-Man series featured such a robust set of characters. Starting out right in the middle of the action, you learn of an evil villain named Skeletor and his henchmen trying to take over Eternia and gain the power of Castle Grayskull. Guarded by the Sorceress, He-Man makes his base here and maintains his hidden identity as Prince Adam with her, the magician Orko, his talking cat Cringer/Battle Cat, and Man-At-Arms. While animation was limited, the strong characters are immediately evident. Teela, Captain of the Royal Guard, is both Adam's trainer and close friend. Adam's persona as a lazy prince adds friction and tension between his parents and friends like Teela, as he tries to maintain his identity as He-Man while keeping his family out of danger. Skeletor held this formidable aura about him, while gradually being reduced to more comedic tones to keep the show adequate for children. While the action may seem small by today's standards, his infamous "power punch" and tossing enemies aside made great strides for animation in the 1980s. While he didn't get to use his sword very often, it usually made for a great addition in battles. Although it was a giant commercial for the toy line, the show's writers and animators made it much more than that. The series had a great fantasy atmosphere that mixed in with science fiction and technological aspects. It tackled some great storylines such as Adam's distress over killing a man. The series eventually ended in favor of his sister spin-off, She-Ra Princess of Power, but He-Man made periodical guest appearances that showed off how far Filmation progressed in terms of animation and story.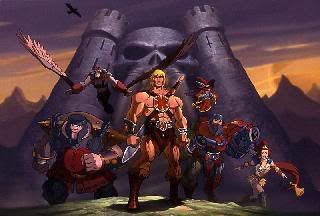 The 2002 remake of He-Man and the Masters of the Universe added so much more than new animation and character designs. It really fleshed out the universe and many of its characters, going in depth on story background and making Eternia feel alive. For the first time, the origin story for both Skeletor and He-Man was shown and how Adam's father, King Randor came into power. They added backstory to villains such as Evil-Lyn and fleshed out the history of the Sorceress and Castle Grayskull. The action was more elaborate and exciting, but was still held back by its Y7 rating and making it appropriate for younger audiences. You finally got to see some swordplay and fantastic battle sequences, but the potential was there for so much more. While making Adam and Teela younger was controversial, it added another dimension to their characters that made it interesting to explore. Seeing more elaboration on the Sorceress's relationship with her daughter Teela and such backstory plots made it fun to see what additions would be made to the mythos. With such a large cast of heroes, called the Masters, we got to see individual characters like Mekanek and Stratos get the spotlight. One of the biggest moments in the series was an episode highlighting the origins of He-Man's power and both his and the Sorceress's ancestors, King Grayskull and his wife Veena. Seeing She-Ra villain and Skeletor's former mentor Hordak make an appearance was a real treat. With hopes for the introduction of She-Ra raised, the show was cancelled before a third season could be made.

It's hard to compare both series, as they provide so many good points. While the 2002 remake benefits from added story elements and new animation, there were some slow moments in its run with some episodes feeling more like filler and obvious commercial advertisements. Nostalgia tends to block some of the original's shortcomings, but the storytelling can only go so far. Recycled animations and shortcuts help show the age of the series, but it still maintains a classic feel. With the entire He-Man universe available on DVD, it's the perfect time to check it out.