With the next iteration of the GH series officially entitled Guitar Hero World Tour, current developers Neversoft and Activision have really been trying to raise the bar to
stay in competition
with former GH developer Harmonix and MTV/EA's Rock Band as well as Konami's new IP, Rock Revolution. Both Guitar Hero III and the forthcoming Guitar Hero: Aerosmith have stuck with the tried-and-true guitar formula that the series is known for, but GHWT is taking notes from Rock Band by including their own drum set, vocals, new guitar controllers, and a music creation system. Some have criticized Activision for their lack of downloadable content and songs compared to Rock Band, as the latter has weekly updates with new songs and full albums. Their failure to add anything new to the series outside of the buggy 'boss battles' has also garnered them some criticism. But with Guitar Hero World Tour looking to fix those problems and improve upon Rock Band's success, there is some accusing Activision of 'copying' Harmonix and relying on the GH name and their PR department to win over fans.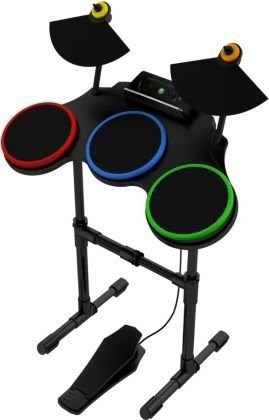 With Rock Band containing two extra instruments and more robust modes over Guitar Hero III, it would sound like a no-brainer on who would be more successful. But with GHIII releasing earlier, already having a built-in audience, a lower price point and barrier-to-entry, having less frequent instrument quality issues, and containing more difficult and guitar-focused songs, Guitar Hero has kept a loyal following despite the new development team. With Activision taking the 'Rock Band route', some fans are worried that the game will lose its guitar focus in favor of the new drum set. Often a criticism of Rock Band, most songs are usually considered easier on guitar because they chose songs that are fun for all four instruments. But the promised robust song list, all master recordings, and a larger dedication to DLC may appease some of the fears.
The other recent criticism the game is receiving is its PR-filled trailer with celebrity drummers Travis Barker of +44 and Blink-182, Chad Smith of Red Hot Chili Peppers, and Stewart Copeland of The Police talking up the game and its more realistic drum set. While there wasn't actual footage shown of them playing the game, they were shown comparing the instrument to real drums and using various buzzwords to take silent jabs at Rock Band. Despite the 'copycat' tone that arises, the notable improvements made on the drum set can't be ignored. The raised cymbals, pressure-sensitive pads, and wireless nature look to de-throne Rock Band's drum experience. The new music creation system looks very promising, offering different drum kit samples, customizable guitar chords, and the pressure-activated pads changing the actual volume of the drum hit.
While Guitar Hero World Tour contains some improved and innovative features, you can't help but get that "me too" feeling. The game also looks to alienate their audience by going away from their guitar-centric formula and creating a higher price point for the game. But if Harmonix doesn't provide an answer this Fall with an expansion or sequel, then Guitar Hero might be the new band simulation to beat.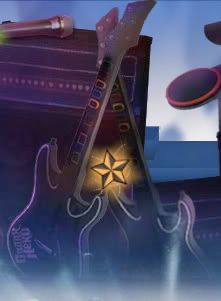 UPDATE:
Geekpulp
has brought to my attention an unofficial image of the new guitar controller on the
official site
. While it may not be a final design, it looks to feature a similar layout to Rock Band's Fender Stratocaster controller with five extra frets on the neck of the guitar. The new buttons look to be recessed or touch-sensitive. Actual gameplay integration with the change is still unknown.