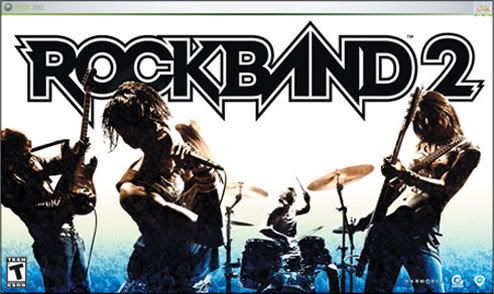 Rock Band 2 is already available on the PS3 & Xbox 360, and both the Wii and PS2 versions are to follow in December. With developer Harmonix striving to have a combined total of 500 songs available for the platform before year's end, they have officially revealed the 20 free songs available for those that purchase a new copy of the game. The songs will be available through a code printed on the back of the manual, and will release on November 4 for PS3/360 and the Wii version available at the game's launch. While the on-disc content went with songs from more popular artists, the free content instead goes with some nice up-and-coming bands. The list covers a diverse group of artists and genres, such as Japan's X Japan and Ireland's Lesley Roy.




* The 88 - "Sons and Daughters"
* Authority Zero - "No Regrets"
* Between the Buried and Me - "Prequel To The Sequel"
* The Cab - "Bounce"
* The Chevelles - "Get It On"
* The Cocktail Slippers - "Give It To Me"
* Dealership - "Database Corrupted"
* Endeverafter - "I Wanna Be Your Man"
* The Ghost Hounds - "Ashes To Fire"
* Hollywood Undead - "Young"
* Kutless - "The Feeling"
* The Len Price 3 - "If I Ain't Got You"
* Lesley Roy - "I'm Gone, I'm Going"
* Opiate for the Masses - "Burn You Down"
* Semi-Precious Weapons - "Magnetic Baby"
* Shaimus - "Like a Fool"
* Thenewno2 - "Crazy Tuesday"
* Tickle Me Pink - "The Time Is Wrong"
* Underoath - "Desperate Times, Desperate Measures"
* X Japan - "I.V."

The musical genres range from metal to alternative to a little bit of rap rock and christian rock. While these artists may not have the notoriety and name recognition, many of the songs I sampled sounded fun to play. Songs like Semi-Precious Weapons' Magnetic Baby were very catchy and brings a lot of good exposure to these groups. The addition of X Japan was a pleasant surprise, although it probably helps that their latest track was sung in English. With news on the Japanese version of Rock Band remaining stagnant since its announcement, bringing over a famed Japanese artist is a good sign for possibly more Japanese music to come either as DLC or progress on Rock Band Japan. I'm a little disappointed they didn't bring over a couple of tracks that had more artist recognition, but fans of these indie groups should be delighted. And given that all of these songs are free, it's hard to be upset.

As the October 26 release date of Guitar Hero World Tour grows closer, it looks like both Harmonix and Activision are looking for ways to one-up each other. Both games are similar on the surface, but they take different approaches when it comes to releasing content. But the value of Rock Band 2 will be hard to beat, with over 100 songs available in the game alone and most RB1 disc songs and all DLC compatible with the title. The Wal-Mart exclusive release of the AC/DC Live Track Pack carries controversy over its bare-bones content, short song list, and $30/$40 price tag for Wii/PS2 and 360/PS3, but the game also allows for a one-time only export of songs for an additional 18 songs. With Guitar Hero focusing more on their GH Tunes platform, it'll be interesting to see how the sales for both games pan out.