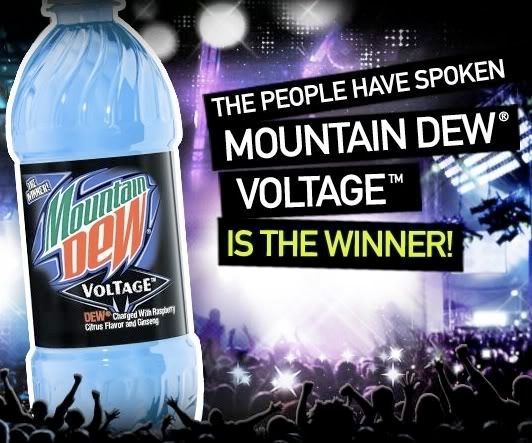 For anyone who saw the standings before voting closed, the winner should come as no surprise. Since the polls closed July 31st, it was inevitable that Mountain Dew Voltage would take the win as the next official flavor. Described as having a raspberry citrus flavor with ginseng, it definitely had the strongest Dew impression, if not my favorite flavor. Mountain Dew Revolution simply tasted like a weaker berry-flavored version, which paled in comparison and didn't really have a strong taste. Mountain Dew Supernova had an okay strawberry flavor, but it felt more like a generic soda rather than a Dew brand. I was slightly disappointed with all three drinks, but the best one did win in the end. Read my full thoughts here.


In order to continue the momentum of Pepsi's successful marketing campaign, they were originally going to announce a new contest to allow consumers to decide how the new flavor was going to be "introduced to the people". It looks like they delayed this event until next month, which is a bit of a let down. Hopefully this new kick-off event will actually solidify Voltage's place in the Mountain Dew line rather than being seen as another random limited edition flavor. That most likely means that it won't be seen in stores until this new contest is decided, which is unfortunate. Perhaps the anticipation will build up even more excitement. There isn't much left to do at DEWmocracy, but the forums are open and you can still create a Voltage ad with their video maker. I still can't help but be disappointed by the lack of at least an announcement to get people excited or interested.

For better or worse, Mountain Dew Voltage will stand alongside the original flavor, Code Red, LiveWire, and Baja Blast as the official line of active brands. Pepsi did a great job of allowing the consumers to decide their next flavor, as previous attempts either tasted mediocre or felt too gimmicky. While they possibly could have done better, Voltage isn't a bad soda and it should be interesting to see where they take things from here.