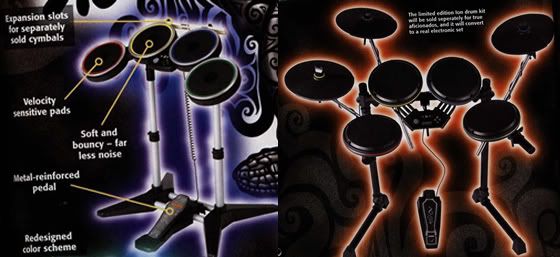 The new wireless drum controllers will include the standard version (left) and the limited edition Ion drum kit (sold separately).

Harmonix has made Rock Band into a platform rather than a series of games, with current and future instruments as well as all DLC cross-compatible with both games. Boasting over 200 downloadable songs and full albums already available, the steady stream of weekly content will ensure satisfaction for owners of Rock Band 1 and the forthcoming Rock Band 2. News on the temporarily 360 exclusive RB2 has escalated leading up to E3 2008. There have been multiple reports on rumored song lists for RB2, which will include 80+ tracks on the disc alone, all confirmed to be master recordings. Here are the 17 songs officially confirmed so far.

"Ace of Spades" – Motörhead
"Everlong" – Foo Fighters
"Pinball Wizard" – The Who
"Panic Attack" – Dream Theater
"Any Way You Want It" – Journey
"Chop Suey" – System of a Down
"Kids in America" – The Muffs
"Give It Away" – Red Hot Chili Peppers
"Hello There" – Cheap Trick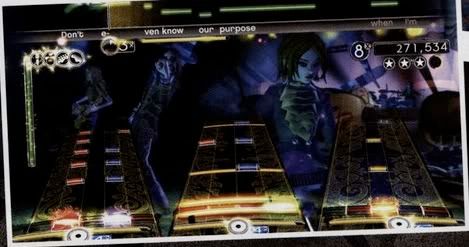 "Pump It Up" – Elvis Costello
"Livin' on a Prayer" – Bon Jovi
"Rock 'n Me" – Steve Miller Band
"Bad Reputation" – Joan Jett
"I Was Wrong" – Social Distortion
"Testify" – Rage Against the Machine
"Almost Easy" – Avenged Sevenfold
"White Wedding Pt. 1" – Billy Idol
Every track on the confirmed list is also present in the rumored song list, which gives it even more credibility. Harmonix seems to have addressed almost every single issue and wish list many consumers had with the first game, including Online World Tour, backwards compatible DLC, and sturdier/better instruments. With so many details on new modes, features, and improved instruments, here's a summary of what has been announced so far.
New wireless guitar with redesigned color scheme, sturdier strum bar, quieter fret buttons, and built-in calibrator camera.

Real Limited Edition Fender Stratocasters with Rock Band internal parts.

New standard wireless drum set with quiet, bouncy, velocity-sensitive pads, metal-inforced bass pedal, and expansion slots for cymbals.
Premium Limited Edition $300 Ion drum kit with included cymbals, converts to electronic drum kit.
Streamlined interface similar to integrated Music Store, new Quickplay mode, custom and auto playlists, a No-Fail mode, simulated instrument tuning, and easier lag-calibration.
More robust custom character creation mode, pre-fab characters available, and characters can play multiple instruments.
A fully encompassing World Tour mode, which includes better integrated DLC, solo tour for all instruments and both local and online multiplayer.


-- Bands remain consistent, no more band leaders, interchangable characters/players.
-- Expanded cities/venues that include RB1 areas, more hirable staff.
-- Tour Challenges mode with progressive difficulty, dynamic DLC tasks, and local/online multiplayer compatible.



Regularly scheduled online Battle of the Bands contests with various modes and detailed stat tracking.
Detailed Drum Trainer mode that teaches real-life lessons and included freestyle mode with multiple styles available
Music-only Jukebox Mode set to in-game footage.
Create and purchase real-life merchandise through the game, includes an in-game photo creator.
With more details set to be revealed at E3 2008 next week, we'll see how the game will stack up against Guitar Hero World Tour. The game is still confirmed for a September 2008 release for the Xbox 360, with PS2, PS3, and Wii releases coming before the end of the year. Retail configurations and prices have yet to be announced, but should be coming soon.