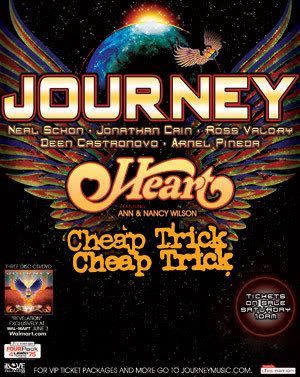 This tour is a dream match-up for some. Combining some of the biggest rock groups of the 70s/80s, you not only get to see Journey revitalized with new singer Arnel Pineda but also get treated to opening acts, Heart and Cheap Trick. Much more than a wave of nostalgia, they really brought a lot of energy for a packed venue that gave back just as much. Although I unfortunately missed Cheap Trick's performance and half of Heart's due to traffic, what I saw was amazing and showed that they can still put on a great performance.



I was really disappointed to have missed Cheap Trick's show, but I was glad to at least catch half of Heart's. I've mostly been a casual fan, only familiar with their major singles and popular songs. But sisters Nancy and Ann Wilson really put on a great performance that was all energy. They really rocked out but also slowed it down when they needed to. They even dedicated one of their biggest hits, "These Dreams" to new Journey singer, Arnel Pineda. I'm not sure how full the venue was during Cheap Trick's performance, but it was already packed by the time Heart arrived. The crowd was going crazy as they played song after song. One of the highlight had to have been their performance of "Alone" as well as finishing things off with the fast-paced "Barracuda". And with the crowd pleading for more, they came back onstage for a couple more songs. They officially ended their set with "Crazy on You", which was a nice way to round things out for a great rock set. The Wilson sisters are still going strong and are gaining new fans with songs featured in both Guitar Hero II and III. While I wasn't as excited as some of the others in the audience, it was still a very fun show.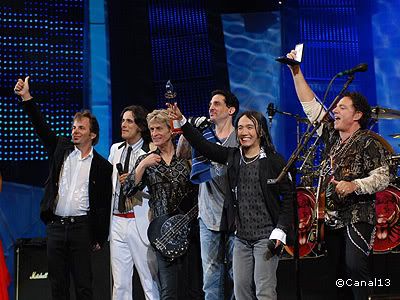 Journey debuted new singer, Arnel Pineda during their February 2008 performance in Chile.

Since Journey recruited Arnel Pineda to the group and showed off their rejuvenated sound with their latest album, Revelation, it's the best they've been since Steve Perry parted ways with the group in 1998. Previous lead singers felt more like poor imitations rather than the next evolution of Journey, and now Arnel Pineda brings a classic feel with some new energy. Their show started off with their new instrumental track, "The Journey", quickly segueing into Revelation's opening track, "Never Walk Away". While most of their new songs didn't get as big of a reaction as the classic material, this one of the few that were received better from the crowd. As they went into "Only the Young", they only reminded you that guitarist Neal Schon can still shred with a mini-solo. "Stone In Love" further solidified this fact as he kept on bringing the heat. Perhaps one of the bigger highlights of their performance for me was one of my favorites, "Ask the Lonely". While it may not be one of their more popular songs, it's a nice song that builds with Neal's solo as all five chime in for the chorus. But hearing "Separate Ways" live is an experience like no other. It had to be one of the more powerful performances that they put on. With the largeness of the drums, the ambiance of the keyboard, and the background of the guitars, it was all topped off by Arnel's masterful vocal work. The whole song just felt large and hearing live recordings just don't do it justice. Their new material was more hit-and-miss, as Jonathan Cain's great touch on the keyboard was shown on the ballad, "After All These Years". Other tracks like "Change For The Better" kind of shifted the momentum down a bit, but there was a nice balance of both new and old songs.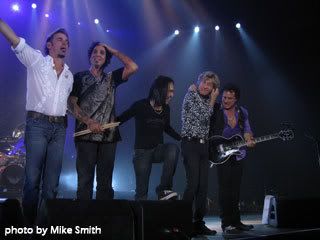 Journey began their 2008 Summer Tour in the UK.

While the momentum was a bit of a roller coaster, "Lights" was only the beginning of one of the high points. You could hear the crowd singing along, holding up lighters and cell phones. And as Jonathan Cain caught everybody's attention with an impressive keyboard solo, he went straight into "Open Arms". The entire venue was singing with Arnel's soaring vocals, which you could see that he was definitely in his element. And then they went into one of Arnel's best songs, "Faithfully". As one of the songs that originally caught the attention of Neal Schon when he discovered him on YouTube, he truly does it justice. "Wildest Dreams" and a song I was unfamiliar with brought the energy down a bit, but then they played fan-favorite, "Don't Stop Believing". They didn't disappoint here, although it didn't feel as powerful as some of the others. Instead of strictly sticking to the song list, they went into a little ditty with Neal Schon on guitar and Jonathan Cain playing a very impressive harmonica. You could see how much fun Journey was having on stage, as Arnel Pineda was dancing, meeting fans, and making some impressive and timely jumps off of the drum riser. They completed the set with "Wheel in the Sky" and "Any Way You Want It", which had everybody on their feet asking for more. As Arnel did formal introductions of all the band members, you can see how close they have become. They came out for an encore with "Escape" and "Lovin, Touchin', Squeezin'", which felt like great fanservice for the packed crowd. As they made their final bow, it only reinforced my excitement about Journey's future.

While there were some songs I was hoping to hear like "Mother, Father" or "I'll Be Alright Without You", it was still a phenomenal experience and worth every penny to see them live. They managed to cover most of the biggest hits as well as display some of the stronger tracks from Revelation. The pacing could have been better managed, but that was most likely attributed to more familiarity and passion for the classic songs rather than the new material. All five members of Journey really shined here and all of the old songs felt new again. Heart put on a great performance, and I'm sure Cheap Trick did the same. With a large amount of tour dates left to go, there's plenty of time to check them and see for yourself that they still got it.