Batman has been seen in many animated forms, from his early days with the Superfriends to some of his more recent appearances in Justice League Unlimited. But perhaps his best known animated incarnation was in the 90s cartoon, Batman: The Animated Series. Featuring famed producers such as Bruce Timm and Alan Burnett, the show set precedence not only for the Batman mythos, but for action cartoons as a whole. Voice actor Kevin Conroy has become inexplicably known as the the voice of both Bruce Wayne and Batman, bringing multiple layers and dimensions to the character. They all return to bring together a "dream team" of famous writers and big Japanese animation studios with names like comic book writers Greg Rucka and Brian Azzarello, and studios Production I.G. and Madhouse. All of these talented teams each created six shorts to bring together the next feature in their PG-13 line of DC Universe Original Animated Movies, Batman: Gotham Knight.

The project began with writers and producers from the Batman animated series and both Batman Begins and The Dark Knight teaming up to each create six unique shorts tied together through a single plot. David Goyer, Brian Azzarello, Josh Olson, Greg Rucka, Jordan Goldberg, and Alan Burnett each penned and produced a short with their own writing style. Studio 4°C, Production I.G., Bee Train, and Madhouse each brought a different take on Batman and Gotham City, bringing each writer's vision to life in a plotline that was loosely tied together. Kevin Conroy's many years voicing both Bruce Wayne and Batman brought the character to life in this new, mature film that gives the animated mythos a dark and interesting diversion into the possibilities of an adult series. While the first PG-13 Batman animated feature, Batman Beyond: Return of the Joker was from a spin-off futuristic series, Gotham Knight is the first to show the original canon in such a mature tone and light.





The most impressive thing about Gotham Knight is the amazing visuals. All four animated studios did such impressive work recreating both Batman and Gotham City. They all had a different take that stands apart from previous animated versions. The anime art style goes well with the universe, and you could see the trademark animation seen in popular features and series such as Production I.G.'s Ghost in the Shell, Studio 4°C's Tekkon KinKreet, and Madhouse's Vampire Hunter D: Bloodlust. While each depiction may bring about different personal opinions, they all bring high quality work and show Batman as he's rarely been seen before. Some of the variations on Batman and Bruce Wayne's look definitely were interesting, but it only added to the fun. The clean animation, strong and vibrant colors, and solid action scenes definitely took the spotlight. Kevin Conroy's contrasting voices for Batman and Bruce Wayne showed off the character's various personas and really tied things together.

There have been many comparisons made to The Animatrix, which was a series of nine animated short films to complement The Matrix Trilogy. While each o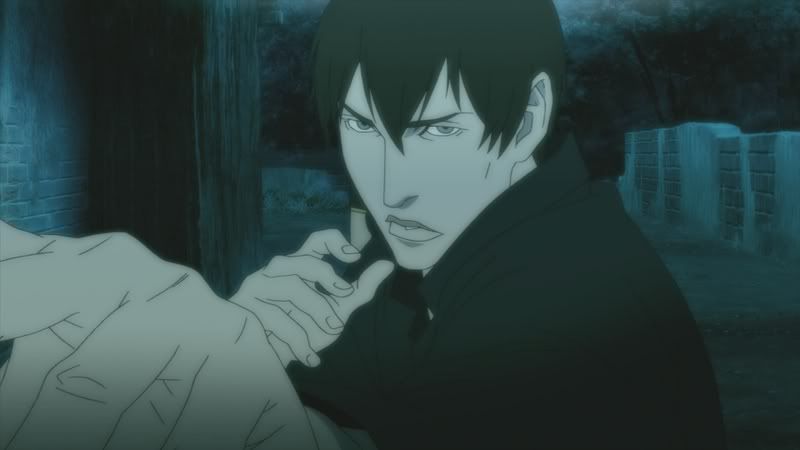 f those shorts were self contained, the ones here in Gotham Knight are not. This is perhaps one of the weaker points about the film, because some of the shorts are not strong enough to stand on their own. The 10-15 minute run time of each one was not always long enough to tell a complete story that was enthralling enough in its own right or as part of a larger whole. It felt like there should have been more cohesiveness between the different writers and studios. Despite this, there are still some very strong stories here. Perhaps one of the strongest is Studio 4°C's second short, "Working Through Pain". While Batman deals with a current struggle, he reflects on the past and the various training he received before taking up the cape and cowl. Another imaginitive tale is "Have I Got A Story For You", which recreates a classic Batman story that shows different versions of the Dark Knight through the eyes of children. Other shorts such as "Crossfire" feel a bit too slow on its own, but are decent enough when taken as a whole. The one theme maintained throughout the feature is the sense of darkness that pervades Gotham City. The grittiness, impactful fight scenes, and the personality of both Batman and Gotham stand out. However, the overall writing still feels too sub par for the quality of writers contributing to the film.



Gotham Knight was released in multiple versions, including a Blu-Ray high definition release. The clarity and crispness of the animation and transfer was amazing. The colors stand out so much more, with every frame so rich and defined. The intimidating image of Batman among a sea of flames in "Crossfire" and the fast-paced action sequence in "Deadshot" are just a few scenes that stand out. While it contains the same extras as the Special Edition DVD, it's disappointing that they weren't remastered in high definition. With a handful of great documentary features, a sneak peak at the new Wonder Woman animated feature, and four great episodes from Batman: TAS, it would have been nice if Warner Bros. took the extra step to make the Blu-Ray release even better.

There was a lot of hype surrounding Batman: Gotham Knight, but the film didn't quite live up to expectations. The animation was phenomenal, especially in high definition, but the writing was a little above average. If they had told more self-contained stories or a more cohesive, connected plot, then Gotham Knight would have been better. There is still a lot to like and is definitely worth seeing to complement The Dark Knight.