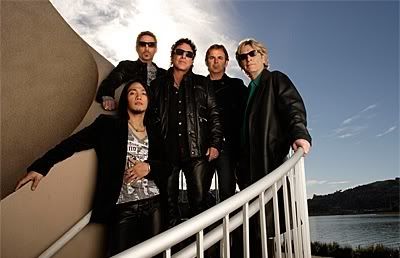 From left to right: Arnel Pineda (lead vocals), Deen Castronovo (drums), Neal Schon (guitars), Jonathan Cain (keyboards), and Ross Valory (bass).

Journey has had a long musical history. They have been around for more than thirty years, best known for such 80s hits as "Don't Stop Believin'" and "Open Arms". Throughout the band's various line-up changes, former lead vocalist Steve Perry is responsible for creating the amazing legacy and memorable voice of Journey. After being part of the group for more than twenty years, Perry and Journey parted ways in 1998 after disputes over Perry's hip injury and required replacement surgery. Since then, they have had a couple of lead singers that attempted to capture the spirit of the band. Look and sound-a-like Steve Augeri shouldered the burden as 'the replacement', but he always felt more like a poor copy of Perry that failed to measure up. A throat infection in 2006 forced Journey to look for a new lead singer, and Jeff Scott Soto was the temporary stand-in until they parted ways in 2007.



Former lead singers: Steve Perry, Steve Augeri, Jeff Scott Soto, and the current Arnel Pineda.

The discovery of new lead singer Arnel Pineda came from guitarist and founding Journey member Neal Schon's searching on YouTube. Making a name for himself in The Phillipines and with band The Zoo at the time, Pineda was singing covers of famous bands such as Led Zeppelin, Aerosmith, and Journey as well. After immediately being flown to the U.S. for an audition, he was soon added to the group. Since the departure of Steve Perry, Journey had lost that magic. Steve Augeri was an adequate replacement, but he never had that emotion and feeling that made the group so unique and special. Jeff Scott Soto was forgettable, as he was only part of the band for six months before they sought out a more permanent replacement. The discovery and implentation of Arnel Pineda is such a wondrous story, but one that has led to some raised brows and criticisms from faithful Journey fans. Questions about his Filipino background, accent, or his fit with the band should be set to rest. His tenor voice is a great match for Perry, much better than previous singers. Besides that, he carries that feeling, passion, and magic into songs both old and new that really makes this feel like a new start for Journey.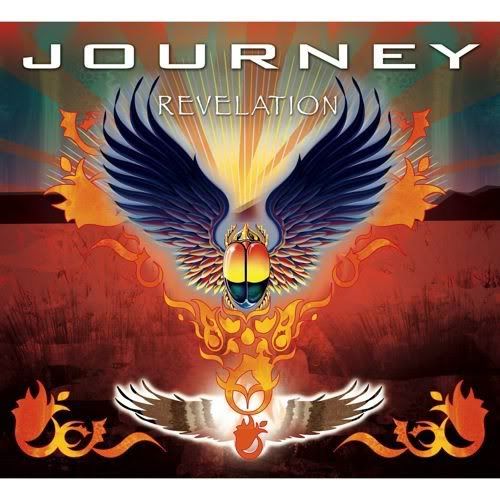 The recently released album, Revelation is the first to include Pineda, although he joined during the recording process and does not have any writing credits on any of the tracks. The record includes eleven new tracks, eleven re-recorded greatest hits, and a bonus DVD featuring live concert footage. The packaging and artwork add a nice touch, but the music speaks for itself. For the first time in a long while, it feels like classic Journey once again. The opening track, "Never Walk Away" gives a nice introduction to Pineda, and it shows only a sampling of his amazing voice. He soars throughout the new material, very much feeling like the true spiritual successor to Steve Perry. Rather than merely sounding like a copy, he adds that dimension to the band that has been missing. You can hear the emotion he adds to each song, from rock to ballad. A couple songs tend to meander a bit, but longtime members like Neal Schon and Jonathan Cain still show they still have it. As the principle writers of the album, they present a well-balanced album that complements each section. One of the standout tracks is the soulful "Turn Down The World Tonight", which really showcases the direction Journey is heading in.

The new recordings of classic songs like "Faithfully", "Don't Stop Believin'", and "Who's Crying Now" sound amazingly similar to their original counterparts. Pineda definitely does them justice, enough so that you can even make out the minor differences in his delivery. Although drummer Deen Castronovo was not apart of the original recordings of these hits, he does a good job of presenting the songs. While there are plenty of tracks I would have loved to have heard with Pineda, they chose a nice selection of tracks that encompasses some of their biggest songs and complements his style and voice very well. In classics like "Open Arms", Pineda is in his element as his tenor voice soars. The concert footage shows the band early on with their new lead singer, but you can see chemistry gradually building. Given that Pineda has only been officially with the band for about six months, he's acclimating well enough. While he doesn't command that stage presence that Perry had, he doesn't look out of place. Fans might initially question his fit because of his ethnicity, but once they see and hear him with the rest of the band, then their fears should be laid aside.

Arnel Pineda is not exactly the next 'Steve Perry', but he brings Journey in the right direction. Although all five guys aren't exactly young anymore, they still bring the intensity and passion in their music and performances. Revelation is exclusively available at Walmart stores, and the low $12 price tag should entice both newcomers and old fans alike. The future is looking better for Journey, and I'll be keeping a watchful eye on where things go from here.