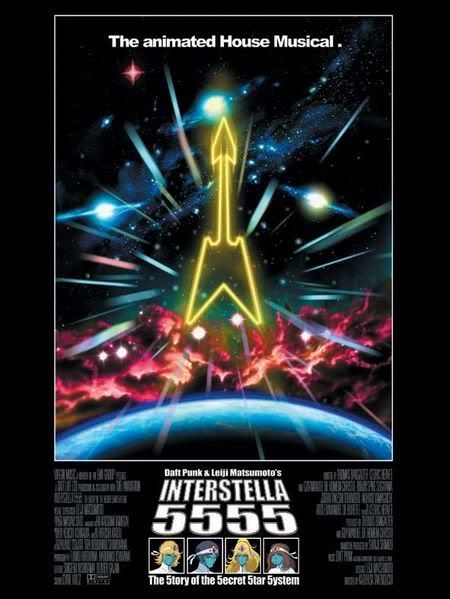 Daft Punk rose into the mainstream consciousness with their hit single, "One More Time". A longtime club and radio staple, it was one of four major vocal-dominant releases from their album, Discovery. One of the popular tracks, "Harder, Better, Faster, Stronger" is most likely better known for its sampling in Kanye West's recent hit, "Stronger", from his album, Graduation. But Discovery's dance/electronica music styling was felt throughout the whole track list, with each song seamlessly connected in atmosphere and story. It is only part of a whole, as Daft Punk created the music in collaboration with Toei Animation and famous anime creator, Leiji Matsumoto. He has created many classic anime series and space dramas like Captain Harlock and The Galaxy Railways, and he brings that same spirit and story in Interstella 5555: The 5tory of the 5ecret 5tar 5ystem.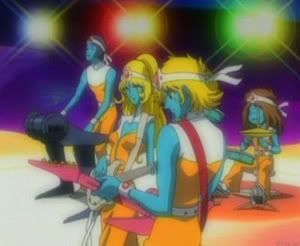 Interstella 5555 is unique because of the complete lack of dialogue and usage of minimal sound effects. The entire film is set to Daft Punk's Discovery album, and you can immediately see how well they fit together. Since they were created simultaneously, both music and animation connect to tell a complete story. Matsumoto's popular character designs and space atmosphere return to tell the tale of a famous alien band. These blue-skinned music stars are performing "One More Time" on their planet, but is soon interrupted by a raid of humanoid troopers. As the group is kidnapped, a distress signal is sent to a nearby patrolling ship before a strange gas incapacitates the entire population.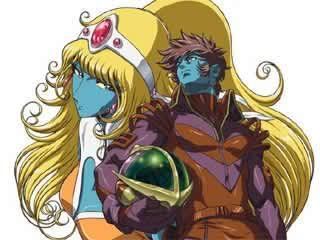 This space pilot is shown to be a big fan of the group, especially the female bass guitarist, Stella. As he embarks on a great space chase to Earth, he crashes before catching up to the kidnappers. Soon the band is taken to an underground facility where they have their memories replaced, made to look like humans, and forced to work for a record company as the newly rechristened 'The Crescendolls'. This is only the beginning of an amazing story filled with emotion, excitement, and poignant moments.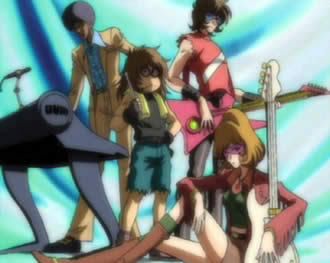 The Crescendolls, from left to right: Octave (keyboard/vocals), Baryl (drums), Arpegius (guitar), and Stella (bass).

As the film follows the Discovery tracklist exactly, you get a better feel and understanding of the album. While some tracks might sound like typical dance songs with its repeating loops and bass lines, you get to see the entire meaning with Interstella 5555. Daft Punk and Matsumoto work masterfully to create this moving piece that is not only innovative but tells a great story and message. Although it initially begins with space themes, much of Interstella addresses the music industry with many plot twists. Band members Octave, Baryl, Arpegius and Stella show strong personalities despite their lack of dialogue, and rescue space pilot Shep's noble intentions shine through. Record industry executive and captor Earl de Darkwood displays his villainous side that culminates at the end of the film. All of this can be interpreted with deeper meaning, perhaps addressing the current music industry as a whole and depicting the role artists, consumers, and record companies can have in a situation.

Interstella 5555: The 5tory of the 5ecret 5tar 5ystem is simply described as "The animated House Musical", and that title fits perfectly. Clocking in at little over an hour, neither album or film feels too short or drawn out. It has a very universal appeal, as the French music group and Japanese animation studio team up to create this great piece of work. The complete lack of voice track disregards any arguments over Japanese or English vocals, instead allowing the sole focus to be the music and animation. Even if you're not generally a fan of Daft Punk, Leiji Matsumoto, or anime in general, it is still worth the watch for its innovative nature and magnificent story.